Richmond | 07/22/2019-08/02/2019
Saint Thomas the Apostle Catholic School


PRICING (2-WEEKS)
Note: All prices shown are for TWO-WEEKS of camp.
$879 Early Registration Price ($909 after 04/01/2019)
Tuition includes all instruction, activities and materials. It also includes two camp t-shirts, which should be worn daily. Lunch is NOT included.
Add-Ons
$70 – Morning Supervised Play (8am – 9am)
$140 – Afternoon Supervised Play (3pm – 6pm)
$100 – Daily Lunch & Snack
$6 – Extra camp t-shirt (2 shirts are included with your registration)
$6 – Extra camp CD (1 CD is included for each child registered)
Discounts
Family Discount:
$20 off per camper for 2 members of the same family
$30 off per camper for 3 members of the same family
$40 off per camper for 4 members of the same family – please contact us to register 4 or more members of the same immediate family
3801 Balboa Street, San Francisco, CA 94121
07/22/2019 – 08/02/2019 (M-F, 9am – 3pm)

Supervised play available 8am-9am and 3pm-6pm for an additional charge.
Adventures in Writing Camp is excited to come to Saint Thomas the Apostle Catholic School this summer with all new curriculum! This location will have first grade, elementary, and middle school programs! Our team of credentialed teachers, musicians and college students is ready to help new campers build confidence and fall in love with writing, and help returning campers continue to develop as writers!
Space available in 1st grade!
Space available in 2nd grade!
Space available in 3rd grade!
Space available in 4th grade!
Space available in 5th grade!
Only 1 space remaining in 6th grade!
Space available in 7th grade!
Only 3 spaces remaining in 8th grade!


Camp Staff
MEET THE TEAM
Zoe Marinkovich, Site Administrator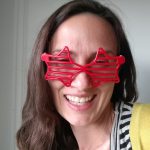 Zoe can often be heard shouting with joy her favorite camp cheer "You Rock! You Rock like a Rock Star!" Zoe loves cheers, games and camp more than anything in this universe. She has been a camp counselor for more than 20 years. During the "off season," you can find her in a classroom. She has taught second grade as well as middle and high school levels. She is a credentialed teacher with a Master's degree in Education from San Francisco State University and a doctorate in International and Multicultural Education from the University of San Francisco. She has taught writing at almost every grade level including helping graduate students with their dissertations. She loves to help students stay motivated through revisions and reach for the stars.
Angelo Sphere, Writing Ranger (Middle School)

Angelo Sphere is a Writing Ranger at Congregation Beth Shalom. Angelo is a former Waldorf school teacher and is currently earning his teaching credential at Dominican University. In addition, Angelo earned his MFA in Creative Writing from Mills College, and a story he wrote at Mills, "After-Action Report" will be appearing in Rosebud 64 this June.
Angelo got started writing stories when he was in middle school and took a class with novelist Martin Cruz Smith. He loves helping young writers find their voice and sharing his experiences as a writer. Angelo believes that the dreams and stories young writers have now are the ones that can last into adulthood.
When he's not writing or reading a great comic book, Angelo is playing board games with his son and daughter. This marks the third year Angelo's hosted the Magic The Gathering Club at Mill Valley Rec's Teen Zone. If you've got a favorite game, tell Angelo!