Alameda | 07/22/2019-08/02/2019
St. Philip Neri School


PRICING (2-WEEKS)
Note: All prices shown are for TWO-WEEKS of camp.
$789 Early Registration Price ($819 after 04/01/2019)
Tuition includes all instruction, activities and materials. It also includes two camp t-shirts, which should be worn daily. Lunch is NOT included.
Add-Ons
$70 – Morning Supervised Play (8am – 9am)
$140 – Afternoon Supervised Play (3pm – 6pm)
$100 – Daily Lunch & Snack
$6 – Extra camp t-shirt (2 shirts are included with your registration)
$6 – Extra camp CD (1 CD is included for each child registered)
Discounts
Family Discount:
$20 off per camper for 2 members of the same family
$30 off per camper for 3 members of the same family
$40 off per camper for 4 members of the same family – please contact us to register 4 or more members of the same immediate family
1335 High Street, Alameda, CA 94501
07/22/2019 – 08/02/2019 (M-F, 9am – 3pm)

Supervised play available 8am-9am and 3pm-6pm for an additional charge.
Adventures in Writing Camp is excited to come to St. Philip Neri School this summer with all new curriculum! This location will have first grade, elementary, and middle school programs! Our team of credentialed teachers, musicians and college students is ready to help new campers build confidence and fall in love with writing, and help returning campers continue to develop as writers!
Space available in 1st grade!
Space available in 2nd grade!
Space available in 3rd grade!
Space available in 4th grade!
Space available in 5th grade!
Space available in 6th grade!
Only 4 spaces remaining in 7th grade!
Only 3 spaces remaining in 8th grade!


Camp Staff
MEET THE TEAM
Rasheedah Jones, Site Administrator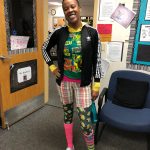 "Rashida Jones, the actress from Parks and Rec?"
Nope, sorry, wrong Rasheedah Jones! I know, I know, what a shame, but I promise you she's a whole lot cooler!
When she's not jumping out of planes, climbing mountains, watching baseball, playing soccer, or traveling around the world, she is shaping and inspiring the young minds of 4th and 5th graders. Rasheedah is going on to her fourth year of teaching a 4/5 combo class in the New Haven School District. She received her BA in Liberal Studies, Teaching Credential, Masters in Curriculum, and Masters in Reading & Language from Cal State East Bay. And that's not all, she is putting her Curriculum Masters to use, and is currently writing a Social Emotional Learning curriculum for upper grade students! Wooooo that's a lot! This will be Rasheedah's first year at AIW as a Site Administrator, and writing teacher, in hopes to many more years sharing her love of writing and teaching to students.
PS. Her favorite spirit day at school is mismatch day ...*hence the photo*
Fordy Shoor, Entertainment Ranger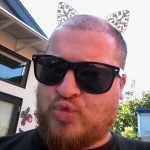 Fordy is excited to bring another summer of shenanigans back to AIW camp. He is a double English degree holder, with a B.A. from UC Berkeley and an M.A. from CSU East Bay. He works as an academic coach at the College Link Program with adult students on the ASD spectrum, and as an Extended Daycare Assistant at Black Pine Circle School in Berkeley. As a writer, he finds the small stuff most challenging, such as the finding the right word and drafting (I mean revising. No, changing. Actually, I meant drafting. Yes, that's it! Drafting); his interests lie in short fiction, poetry, and essays. He has facilitated writing workshops and acted as an editor on literary magazines. In his free time, Fordy adores being with his cats, his bass guitars, friends, garden, kitchen, concerts and books. He's passionate about both creative writing and literacy, and proud to be contributing to the summer retention rate for young learners.
Marjorie Boggs Vazquez, Writing Ranger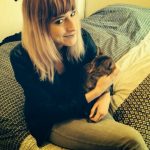 Marjorie is super excited to be working with Adventures in Writing Camp for the third year! She has been in education for 11 years, and a teacher for 8 of those years. When she's not teaching, she spends her time cuddling her kitties, doing yoga, and sitting by Lake Merritt with friends. She is really looking forward to meeting her newest crew of campers and families this spring!