Fullerton | 06/03/2019-06/14/2019
Laguna Road Elementary


PRICING (2-WEEKS)
Note: All prices shown are for TWO-WEEKS of camp.
$789 Early Registration Price ($819 after 04/01/2019)
Tuition includes all instruction, activities and materials. It also includes two camp t-shirts, which should be worn daily. Lunch is NOT included.
Add-Ons
$70 – Morning Supervised Play (8am – 9am)
$140 – Afternoon Supervised Play (3pm – 6pm)
$6 – Extra camp t-shirt (2 shirts are included with your registration)
$6 – Extra camp CD (1 CD is included for each child registered)
Discounts
Family Discount:
$20 off per camper for 2 members of the same family
$30 off per camper for 3 members of the same family
$40 off per camper for 4 members of the same family – please contact us to register 4 or more members of the same immediate family
300 Laguna Road, Fullerton, CA 92835
06/03/2019 – 06/14/2019 (M-F, 9am – 3pm)

Supervised play available 8am-9am and 3pm-6pm for an additional charge.
Adventures in Writing Camp is excited to come to return to Laguna Road this summer with all new curriculum! This location will have first grade, elementary, and middle school programs! Our team of credentialed teachers, musicians and college students is ready to help new campers build confidence and fall in love with writing, and help returning campers continue to develop as writers!
Space available in 1st grade!
Space available in 2nd grade!
Space available in 3rd grade!
Space available in 4th grade!
Space available in 5th grade!
Space available in 6th grade!
Space available in 7th grade!
Only 5 spaces remaining in 8th grade!


Camp Staff
MEET THE TEAM
Kelly Pellizzari, Site Administrator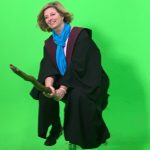 Kelly Pellizzari is a 6th grade GATE teacher at Laguna Road Elementary School, in Fullerton School District. She is a highly accomplished teacher, as well as a GATE qualified teacher. This is her fourth year participating in the program, and she is super excited to be here! Since she love, love, loves reading, teaching writing is very enjoyable for her. Another few of her interests include gardening, riding her bike, and playing with her dog. She also enjoys musical theater - so much that she puts on a play with her fellow teachers with the sixth graders as the actors- every year. Yet one more interest of hers is drinking boba, and, once again, reading! Her favorite food is ICE CREAM!!!!! Sounds like a perfect writing teacher, a great mentor, and an amazing person! (written by a former student!)
Christi Tucker, Writing Ranger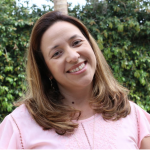 Christi Tucker is a credentialed 4th grade teacher with her masters degree in curriculum and instruction. She has eleven years of experience in preschool through 8th grade. Christi loves the Southern California sunshine, color-changing sheep on Minecraft, kayaking, and taking on a challenge to learn something new. Embracing change, she loves to integrate technology into learning and utilize it to make writing an adventure everyday. She is excited to help students find their voice as authors this summer at Adventures in Writing Camp.
Lulu Pellizzari, Entertainment Ranger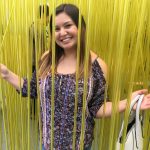 We are so excited that Lulu is returning to AIW Camp as an Adventure Guide, for her fourth summer! When she is not working at the summer camp, she is getting her degree in Journalism at Rutgers University in New Jersey. Also she can be found back-stage, stage managing shows or in the kitchen cooking up a storm. Her three greatest loves are food, children and entertainment. We can't wait to have her in on the adventure again this summer!
Casey Smith, Writing Ranger (1st Grade)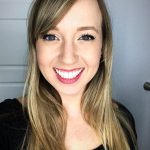 My name is Casey Smith. I have been a Kindergarten teacher for eight years and I absolutely love teaching kids how to write! I am so excited to be teaching you this summer. Writing is such a special way to express your thoughts, tell your story, and teach other people about something you love. But, I haven't always felt this way about writing. When I was a kid, I didn't love to write. I could never think of anything to write about and I rarely felt like my story was interesting enough. I would sit there feeling frustrated and discouraged. As a writing teacher, I never want my students to experience that! I want young writers to feel empowered to share their ideas and excited to write. Writing can be so much fun! I am here to meet your child right where they're at- if they absolutely love to write or not. Over the next couple of weeks, your child will develop into a writer and they will have fun doing it! I am looking forward to teaching your little writer how to feel confident and excited to share their story through the beautiful art of writing!
Josephine Catalusci Medina, Adventure Guide (Counselor)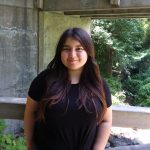 Josephine Medina is incredibly excited for her second year at Adventures in Writing Camp! She is currently attending Vanguard University as a sophomore psychology and history major. She has worked as a camp counselor at several camps, with children of all ages, and is thrilled to help students create their own spectacular stories! Nothing is more amazing than a homemade story! She loves hiking, exploring, and traveling; and enjoys nothing more than a good book and some hot chocolate.
Kait Alcantara, Adventure Guide (Counselor)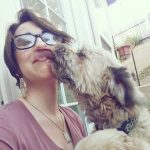 Kait is a writer through and through! She has been writing since she was eight years old, and, having graduated last year from California State University, Fullerton with a Bachelor's Degree in Anthropology, she is now pursuing writing professionally in a Master's of Fine Arts in Screenwriting program. When not writing (or reading, or illustrating), Kait likes to listen to music and play old video-games. She has been working with children in k-12 for over three years and specializes in tutoring reading and writing skills. She is excited to share her passion for writing, story-telling, and having fun with the students she will meet at Adventures in Writing Camp!
Blair Campbell, eBook Ranger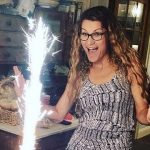 There once was a teacher named Blair
She had super wild and curly hair
She loved teaching and writing
And made everything exciting
And could create and revise with flair!
Blair Campbell LOVES writing! Yep, she has a sparkle for helping students find their inner voice by coming up with original ideas. Her passion is with teaching students, and energizing them to be themselves. Writing is one of the best ways to see the uniqueness in each child, and that is where she shines! She has been teaching at Beechwood School in Fullerton for 14 years and makes sure each year is fresh and new. She loves trying new strategies, is a life-long learner herself, and knows that her role is in the classroom, working with students. She was awarded Teacher of the Year in 2016 at her school, and feels so lucky that her teaching talents and "outside the box" ideas are recognized and appreciated. She has studied with some of the best Writing Educators from Columbia University's Reading and Writing Institute, and can't wait to share her expertise with a new group of students this summer. She also has her GATE Certificate and loves setting high expectations for her kids by looking through different learning lenses. She will be guiding each child on their path to becoming an author and coaching them along the way. She loves teaching various writing strategies to help her students bring their writing to the next level. Adding in sensory details, figurative language, dialogue, and strong vocabulary is just one area that she can help each child make their stories spectacular and get it all set up in a wonderful e-book. She looks forward to this wonderful writing journey together this summer! So grab your pencil, your creativity, and get ready for some writing fun and flair!
Kirstin Joyce, Supervised Play Scout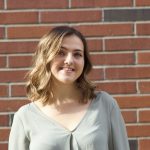 Kirstin's favorite movie growing up was Beauty and the Beast - most girls wanted the castle, but she just wanted the library. As an aspiring teacher at California State University Chico, she's fortunate enough to have been hired as an English and Political Science mentor on her campus and gets to spend lots of time guiding incoming freshman to success in their classes. As a member of the mentoring program, she has been trained in methods of teaching that include hands-on learning, group activities, and making sure others feel positive about themselves and their abilities within the classroom. Her personal take on writing? It is one of the best ways that young minds can express and discover themselves, and she is crazy excited to be working with so many creative kids! When she's not hitting the books or coming up with story ideas (she would read and write all day if she could), you can probably find her at the movies or in the nearest cupcake shop - she seriously loves those things!