Tustin | 07/08/2019-07/19/2019
Tustin Ranch Elementary


PRICING (2-WEEKS)
Note: All prices shown are for TWO-WEEKS of camp.
$819 Tuition
Tuition includes all instruction, activities and materials. It also includes two camp t-shirts, which should be worn daily. Lunch is NOT included.
Add-Ons
$70 – Morning Supervised Play (8am – 9am)
$140 – Afternoon Supervised Play (3pm – 6pm)
$6 – Extra camp t-shirt (2 shirts are included with your registration)
$6 – Extra camp CD (1 CD is included for each child registered)
Discounts
Family Discount:
$20 off per camper for 2 members of the same family
$30 off per camper for 3 members of the same family
$40 off per camper for 4 members of the same family – please contact us to register 4 or more members of the same immediate family
12950 Robinson Drive, Tustin, CA 92782
07/08/2019 – 07/19/2019 (M-F, 9am – 3pm)

Supervised play available 8am-9am and 3pm-6pm for an additional charge.
Adventures in Writing Camp is excited to come to return to Tustin this summer with all new curriculum! This location will have first grade, elementary, and middle school programs! Our team of credentialed teachers, musicians and college students is ready to help new campers build confidence and fall in love with writing, and help returning campers continue to develop as writers!
As a note, we group campers by grade level. If your child is attending with a friend and they are entering the same grade, they will be grouped together.
Space available in 1st grade!
Space available in 2nd grade!
Only 1 space remaining in 3rd grade!
4th Grade is FULL for this camp!
Click HERE to be added to the waitlist.
Only 4 spaces remaining in 5th grade!
Only 4 spaces remaining in 6th grade!
Space available in 7th grade!
Only 5 spaces remaining in 8th grade!


Camp Staff
MEET THE TEAM
Evelyn Seto, Site Administrator
Evelyn Seto is currently a 5th grade GATE teacher in Long Beach, California. She has taught for many years in grades 1st through 6th grade. Evelyn has a passion for teaching writing and helping young writers express their thoughts. She finds it inspirational for students to take ownership of their writing and make it unique...and creative! She earned her BA from Cal State Long Beach in Liberal Studies with an English concentration, and a MS from National University in Curriculum and Instruction. In her spare time, she likes to spend time with her children, husband, and two dogs. You will often find all of them camping or going on walks on the beach!
Hailey Vittrup, Assistant Site Administrator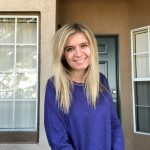 Hailey has always loved writing. From research papers to short stories, Hailey cannot remember a time when she didn't want to write. A May 2016 graduate of The Master's College (now University), Hailey has a Bachelor's of Science degree in Family & Consumer Sciences with an emphasis in Communication. Last year, she was a high school teacher and long term substitute for second grade while pursuing a Master's degree in Communication: New Media and Marketing. Since then, she has decided to pursue a multiple subject teaching credential and has been tutoring, subbing, and waitressing. Hailey's interests in the field of writing vary from creative to editorial pieces. She completed a four-month internship at The Signal newspaper while finishing up her Bachelor's degree, and loved interviewing, editing, and writing articles of her own for the paper. She has written to various children's fiction authors over the past few years, and has read more books than she can count. Hailey has volunteered as an AWANA leader and Sunday School teacher in her church for 3 years, and loves teaching children and inspiring them to do their best at whatever they are doing.
Philip Black, Entertainment Ranger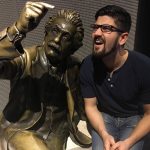 This is Philip Black's third summer working with Adventures in Writing Camp, and he is THRILLED to be back. He received his B.A. in Theatre Performance from Huntington University (in Huntington, IN), where he was a member of the Alpha Chi Honor Society, the Alpha Psi Omega Theatre Honor Society, and a Colloquium Scholar. He has spent the past 10 years working at theaters across America, performing mostly in comedies and musicals. Making people laugh is the thing he enjoys most, followed closely by reading. As he has traveled, he has made a point of always joining the local library. (At last count, he has 5 active library cards.) Along the way, Philip has also developed a distinct passion for teaching, helping to run educational "backstage experience" tours in Michigan, doing interactive Treasure Island performances for grade students in Missouri, and teaching for two summers at Camp Melodrama, a theatrical camp for students K-8 in California's Central Coast. He currently spends his days during the school year as a full-time presenter with California Weekly Explorer, running "game show" styled interactive history presentations for grades 4-6 all over Orange County.
Clare Reiland, Writing Ranger (Middle School)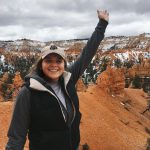 Clare is SO excited for camp!! She is originally from Irvine, but she just moved back to Orange County from San Francisco, where she pursued a Master's Degree in Teaching at the University of San Francisco. Clare's been a part of various classrooms throughout San Francisco and the SF Bay Area, but she is excited to return where her own education started! Outside of the classroom, she enjoys listening to music, hiking, traveling, and (of course) writing! This is her second year at AIW. She's so excited to meet the campers and to have a great summer!!
Cathy Wagner, Writing Ranger (1st Grade)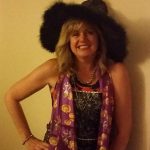 "Please put on your imaginary writing caps on and get ready to burst into writing!" There are so many adventures ahead and the journey is waiting for you! Ready, Set, Go! Zoom! Zoom! Cathy Wagner describes herself as the most blessed and joyful Kindergarten Teacher in Orange Unified School District! She is currently teaching at McPherson Magnet School teaching full inclusion Kindergarten. She is ready to begin her third summer session with Adventures in Writing Camp! She is currently in her "adventurous twenty-ninth" year overall as an educator! She has experience across the grades from K-6th grade. Cathy absolutely loves to see students grow into their love for writing and how writing flows into all areas of learning! Cathy holds a Master's Degree in Language Development from Azusa Pacific University, and a Bachelor's Degree in Human Development/Liberal Arts from California State University of Long Beach. Also, she has collaborated and worked with her school site to bring science to life by raising quail, chickens and ducks as apart of the Kindergarten curriculum! Writing about real life is another fun aspect of teaching the farm unit while the animals are living up close and personal in the classroom. Cathy has also participated in workshops that included writing and implementing stories into Theater Arts. Talk about making writing come alive through writing, reading, acting, singing and good ole fashion fun! Join Creative Cathy this summer to open up your imagination and see where the road will take you! She would love to join in on the writing journey to find new places through creativity and imagination! Creative Cathy loves teaching children writing and bringing their stories to life!
Amanda Steinfeld, Writing Ranger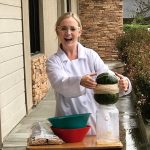 Hi all! My name is Amanda Steinfeld. I just graduated this May with my Masters in Teaching from Azusa Pacific University, and am so excited to start the summer off right with Adventures in Writing! I first developed a love of teaching after having the opportunity to teach hands-on science for a summer camp, and the rest is history! While I began my teaching experience in the science/math field, I found that teaching writing became on of my favorite subjects to teach. I have experience teaching writing to students from Pre-Kindergarten to fifth grade, and I am looking forward to the opportunity to share my love of writing this summer with you all! I enjoy using hands-on, fun, and engaging lessons to help instill a love of writing in my students. I also have a strong passion for performing arts so I may even throw in a few fun writing songs every once in a while. Besides teaching, some of my favorite things include the color pink, music, my friends and family, and everything Disney! Looking forward to a fantastic summer!
Elizabeth Rangel, Adventure Guide (Counselor)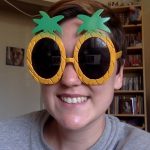 Elizabeth is an extremely passionate person. Some of her passions include animals, reading, Disney movies (her favorite is Ratatouille), music, and sports - but most of all, she is passionate about helping others! Elizabeth always tries to devote her time to volunteering, tutoring, and any other way that she can help people. This is her second year at Adventures in Writing Camp, and she can't wait to meet everyone!
Josephine Catalusci Medina, Adventure Guide (Counselor)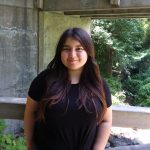 Josephine Medina is incredibly excited for her second year at Adventures in Writing Camp! She is currently attending Vanguard University as a sophomore psychology and history major. She has worked as a camp counselor at several camps, with children of all ages, and is thrilled to help students create their own spectacular stories! Nothing is more amazing than a homemade story! She loves hiking, exploring, and traveling; and enjoys nothing more than a good book and some hot chocolate.
Stephanie (Stevie) Tayor, Adventure Guide (Counselor)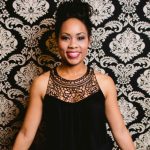 Stephanie, who affectionately goes by Stevie, is an L.A. transplant originally from Michigan. Someone told her she was a writer as a kid and she believed it! Stephanie has been pursuing her writing dreams since middle school and is excited to inspire kids to pursue their love of writing!
Ava Weber, Adventure Guide (Counselor)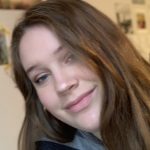 Ava Weber realized her love of creative writing during her sophomore year of high school. She started writing silly stories for her friends and found them asking her for more! She has deepened her love of writing by majoring in English at UCLA with the ultimate goal of obtaining a masters degree in screenwriting. She loves school, and wishes to share her love through teaching. Ava has taken French for five years and has gone on two study abroad programs to France. She speaks French conversationally. Don't hesitate to test her when you see her at camp!
Kari Munoz, Adventure Guide (Counselor)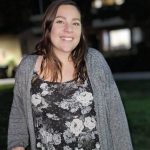 Kari earned her Undergraduate from Cal State Fullerton in Health Science, specifically Health Education, and minored in Kinesiology. Through college, she coached girls softball in Orange, and taught after school Chess throughout Orange County. She earned her Multiple Subject Teaching Credential program through Cal State Fullerton, with an emphasis in Arts and Creativity. Since then, she has been substitute teaching in Fullerton, She is passionate about science, writing, fun, and creativity! She loves hands on learning, especially being able to incorporate games and manipulatives when learning. In her free time, Kari likes to play softball, hang out outdoors, and spend time with family. She can't wait to work this summer with Adventures in Writing!
Kirstin Joyce, Adventure Guide (Counselor)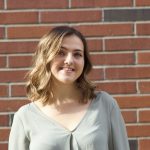 Kirstin's favorite movie growing up was Beauty and the Beast - most girls wanted the castle, but she just wanted the library. As an aspiring teacher at California State University Chico, she's fortunate enough to have been hired as an English and Political Science mentor on her campus and gets to spend lots of time guiding incoming freshman to success in their classes. As a member of the mentoring program, she has been trained in methods of teaching that include hands-on learning, group activities, and making sure others feel positive about themselves and their abilities within the classroom. Her personal take on writing? It is one of the best ways that young minds can express and discover themselves, and she is crazy excited to be working with so many creative kids! When she's not hitting the books or coming up with story ideas (she would read and write all day if she could), you can probably find her at the movies or in the nearest cupcake shop - she seriously loves those things!
Nicole Mason, eBook Ranger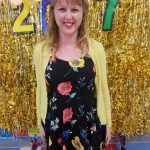 Niki Mason is currently a kindergarten teacher, and next year she will be teaching first grade at a charter school in LA. She loves working with kids. Niki has been a babysitter, nanny, worked for after school programs, worked as a preschool teacher, and has worked as an instructional assistant before she received her Masters in Teaching. Niki also has a Bachelor degree in Art. Dancing and art are passions of hers. Above all, she loves working with and teaching kids. It is an absolute joy!