Glen Park | 07/22/2019-08/02/2019
St. John Catholic School


PRICING (2-WEEKS)
Note: All prices shown are for TWO-WEEKS of camp.
$859 Tuition
Tuition includes all instruction, activities and materials. It also includes two camp t-shirts, which should be worn daily. Lunch is NOT included.
Add-Ons
$70 – Morning Supervised Play (8am – 9am)
$140 – Afternoon Supervised Play (3pm – 6pm)
$100 – Daily Lunch & Snack
$6 – Extra camp t-shirt (2 shirts are included with your registration)
$6 – Extra camp CD (1 CD is included for each child registered)
Discounts
Family Discount:
$20 off per camper for 2 members of the same family
$30 off per camper for 3 members of the same family
$40 off per camper for 4 members of the same family – please contact us to register 4 or more members of the same immediate family
925 Chenery Street, San Francisco, CA 94131
07/22/2019 – 08/02/2019 (M-F, 9am – 3pm)

Supervised play available 8am-9am and 3pm-6pm for an additional charge.
Adventures in Writing Camp is excited to return to St. John Catholic School this summer with all new curriculum! This location will have first grade, elementary, and middle school programs! Our team of credentialed teachers, musicians and college students is ready to help new campers build confidence and fall in love with writing, and help returning campers continue to develop as writers!
As a note, we group campers by grade level. If your child is attending with a friend and they are entering the same grade, they will be grouped together.
Space available in 1st grade!
Space available in 2nd grade!
Space available in 3rd grade!
Space available in 4th grade!
Space available in 5th grade!
Only 2 spaces remaining in 6th grade!
Only 2 spaces remaining in 7th grade!
Only 1 space remaining in 8th grade!


Camp Staff
MEET THE TEAM
Jennifer Carrade, Site Administrator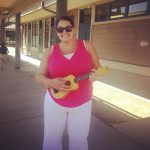 Jennifer Carrade is excited for another summer at Adventures in Writing Camp, this time as the Site Admin! She is a National Board Certified 4th grade teacher at Willow Creek Academy in Sausalito. She has her bachelors in Elementary Education and her M.Ed in Elementary Education with a focus on literacy, both from High Point University in North Carolina. Jennifer loves to help her students soar and reach new levels they thought weren't possible! When Jennifer is not sharing her love of learning with her students, you can find her on the go. She loves to travel and is working on visiting all 50 states (only 17 left)! She also enjoys going to concerts (her favorite concert being Paul McCartney), reading, hiking, watching the Giants, and exploring wherever her curiosity takes her.
Brandt Miller, Writing Ranger (Middle School)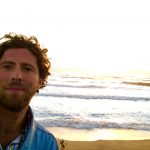 Brandt Miller is a writer and storyteller to his very core. After graduating from Bates College in Maine, he moved to Mongolia on a Fulbright Fellowship where he documented the underground LGBT community through writing and photography. During his free time, he lived with nomadic families near the Siberian border and camel herders of the Gobi Desert. After a year on the steppe, he moved to Cambodia to work as reporter for the nation's English-language newspaper. Fate returned him to the States where he obtained a Master of Fine Arts in Creative Writing at Columbia University. After his MFA, he found himself in the documentary film world as an Associate Producer for National Geographic, Discovery, Smithsonian and BET. Throughout Brandt's diverse creative career, he has always taught and tutored young folks in English and Creative Writing. He moved to California one year ago to pursue a career filled with writing and teaching, which he believes are complimentary paths. His passion is help others tap into their innate creative energies, thereby connecting to their most authentic selves.
Juliana Rossi, Writing Ranger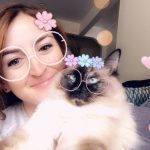 Ever crave a McDonald's burger or a Sprint cell phone after watching a commercial? Then you probably watched a commercial Juliana helped create! In a previous life, Juliana worked as a "Mad (Wo)Man" in the advertising world.
She is originally from Texas and moved to San Francisco six years ago. She became a varsity volleyball coach and then decided to apply to the Bay Area Teacher Training Institute, also known as BATTI! She was accepted and worked full time as a teacher while getting her Masters of Education and her teaching credential through the University of the Pacific/BATTI. She has been teaching 2nd and 3rd grade for the last five years and has loved every minute!
Outside of school, Juliana used to do stand-up comedy and competitive karaoke. She encourages her students to put their talents and humor into their writing. Juliana is an avid hiker, camper, and backpacker as well. When she isn't outside exploring the natural beauty of California or on stage singing a karaoke song, she is at home hanging out with her cat, Simone.
George Rosaly, Writing Ranger (Middle School)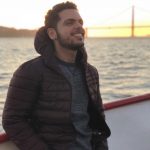 George Rosaly is a board-certified educator. His scope of teaching encompasses project-based learning, lifelong learning (IB), differentiated instruction, lesson hooks and student engagement. During his teaching career, George worked as a middle school teacher in Houston, Texas where he was also an Instructional Specialist and Assistant Principal involving community partnerships, student engagement and building curriculum. George experienced great satisfaction in his work with students as this is where his passion and love working with students started. George has eight years of working as an educator working in different areas, including San Francisco, Los Angeles, and Dallas, Texas. He is bilingual in English and Spanish, and holds a Bachelor's degree, (BA in Elementary Education); and in order to fulfill and address the needs in his work as a school leader, George completed a Master's of Arts in Education Administration and Leadership at Lamar University in Beaumont, Texas. He completed his internship experience in Houston, Texas, where he received a strong practical foundation for the kind of holistic approach to education that George feels is critical to student success.
Kaci Brennan, Writing Ranger (1st Grade)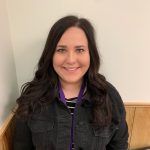 I am Kaci Brennan and I am 28 years old from Fresno, CA. I recently just moved back to San Francisco and am planning on teaching Kindergarten/1st grade this upcoming fall. I am a credentialed teacher that has been working in grades K-3 for two years, and I have loved every second of it. I attended Fresno State, where I majored in Child Development and minored in English and I am so excited to share my love of writing with campers this summer! I am currently a graduate student working towards my Masters in Special Education. In my freetime, I love spending time at Oracle Park watching the San Francisco Giants try their best to win some games. I have an English Bulldog that loves to adventure through the parks of the city. I also love to spend time with my friends and family - hopefully somewhere enjoying the sunshine and some good music. I am looking forward to getting to know you all this summer!
Colleen Mahal, Entertainment Ranger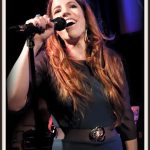 Colleen Mahal is a three time Grammy award winning recording artist and has been teaching K-12 music for bay area public and private schools for over ten years. She is a singer, songwriter, arranger, and radio personality. She is a published author featured on Yahoo! and Business Insider and has been featured on the radio show "Jazz at the Kennedy Center" in New York on Sirius FM with Mark Ruffin.
Teaching music to all ages for over ten years, Colleen received her B.A. in Vocal Performance and her B.M. in Music Education as well as her Teaching Credential from San Jose State University. A singer-songwriter from the bay area, she has performed alongside Tony! Toni! Toné!, Kool and the Gang, as well as many others. She is a recording artist and engineer with The International Studio based in Oakland, CA. She is an executive assistant to Phil "The Thrill" Arnold, president of Thrill Entertainment where her role is to assist with artist administration and festival production. Thrill Entertainment has represented multi platinum artists spanning over three decades. These include such artists as B2K, Tony! Toni! Toné!, Kool and the Gang, Con Funk Shun as well as solo artists such as Raz B, and past artists such as Ike Turner. This provides her a wealth of information about the music the industry and industry relations which keep her attuned to the opportunities available for student-musicians.
Colleen performed and arranged for Prime Time A Cappella, winners of San Francisco's Harmony Sweepstakes. She has taught classes on songwriting, arranging and recording for public and private schools. She also teaches a series of workshops on integrating Music & Technology at Silicon Valley Giants such as Apple, Google, and PayPal.
A few of Colleen's performing credits include performing at the 2017 RUMI International Fashion & Music award show hosted in Oakland. In 2009 Colleen participated in a recording of Mahler's 9th Symphony with San Francisco Symphony which went on to win three grammy awards for best classical album, best choral performance and best engineered album.
Erica Zatarain, Adventure Guide (Counselor)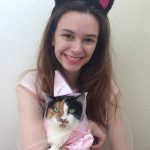 Erica is very excited to be spending her summer as an Adventure Guide for Adventures in Writing Camp! She can't wait to sing, dance, write and be silly with campers! Erica has a surplus of experience reading to, entertaining and watching over elementary students from her babysitting days.
Currently, she is attending San Francisco State, where she's majoring in Hospitality and Tourism, an industry which suits her energetic and outgoing nature. Erica loves animals and spending time with her kitties. She combines her passion for animals and people by volunteering with the Therapy Animals Program at San Francisco State. It brings her joy to be a one-woman welcoming committee for the program and help her peers come out of their shells and be more comfortable.
Erica also loves writing. In school she wasn't so keen about writing and found it a chore. But once she discovered a "Magical Side of Writing", her whole perspective changed and now she can't get enough of it! Erica writes all the time for fun and has written many stories. She has also participated in musical theater since she was little and loves to perform and be silly. Erica can't wait to meet the campers and help them make memories and grow a love of writing!
Kristina Zatarain, Adventure Guide (Counselor)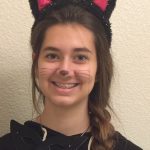 Kristina Zatarain is thrilled to be joining Adventures in Writing for her first time as an Adventure Guide! Currently a student at San Francisco State, she plans to stop climate change, starting by earning her degree in Environmental Science. A Principal's Honor Roll student looking to continue her academic success, Kristina is hardworking and dedicated to her work - whether it be writing essays or playing games with summer campers. Outside of school, Kristina is a complete book fanatic and an animal lover who often combines those passions by speeding through fantasy novels beside her beloved cats. Kristina also enjoys spending time with her six-year-old cousin, particularly when channeling her inner artist and drawing pictures for them to color. Kristina has taken numerous dance and musical theater classes for eight years and loves having fun with fellow performers of all ages. She can't wait to meet her new campers and create a wonderful experience for them to remember!
MADISON KITTREDGE, Adventure Guide (Counselor)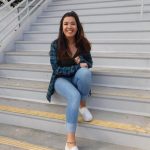 My name is Madison Kittredge, but you can call me Maddy for short. I am currently a college student at California State University Long Beach, having just finished my second year there. I major in English Literature and minor in Comparative World Literature. I am from San Francisco and went to Lowell High School. I have enjoyed reading and writing before I could remember. There was not a public event that I did not bring a book to. In fact, I wanted to be a writer in middle school, but since then my dream job has shifted. I now want to go into publishing, as I have learned that reading and editing are truly where my heart lies. I am the resident editor of my friend group, not only because I love to edit, but also because I have a keen eye for grammar, syntax, and diction. I spend most of my time curled up with a good book or helping my younger siblings and friends with their writing assignments. I hope that my appreciation for reading and writing can help others in their writing endeavors, all it takes is a honest chance and practice.
Tian Shi, Adventure Guide (Counselor)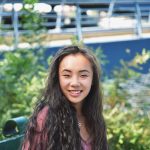 Hi, my name is Tian Shi and I am from Australia / Massachusetts. I am majoring in Biology and minoring in Entrepreneurship at Georgetown University in DC. I have worked with children both in and out of the classroom as a tutor for Chemistry, Math, and French, and as a summer teacher's assistant in STEM and humanities. I was a part of the Big Brother Big Sister program in high school and am a mentor for entering first-year students at Georgetown to develop stronger leadership abilities. As the Editor-in-Chief of the student-run newspaper, I have oftentimes turned to writing as a means of self-expression, reflection, and communication. I'm excited to bring my love for writing to a group of kids who share the same passion!
Emma Smith, eBook Ranger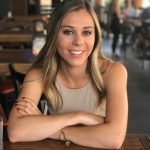 Emma Smith is a Bay Area Native who has known she was going to be a teacher since she was a child! She grew up spending lots of time playing teacher to her younger siblings Abby, Hannah, and Jack. She also spent many summers helping her mom, a third grade teacher, in her classroom. After high school, Emma attended Arizona State University, earning her Bachelor's Degree in Elementary Education. Since graduation, Emma returned back to the Bay Area.Currently, Emma is happily teaching first grade in Larkspur Corte Madera School District at Neil Cummins Elementary School. When she is not spending her time teaching, she loves attending fitness classes, testing out all the sushi she can find, attending concerts, reading books, and spending time with her friends and family! Emma can't wait to meet the campers this summer and have lots of fun dancing, writing, and getting to know one and other!
Tammy Ng, Secretary of Shenanigans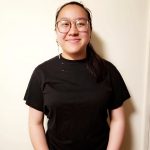 Tammy Ng is your Secretary of Shenanigans with AIW Camp this summer, and she is currently an undergraduate at the University of California Santa Cruz, with a major in Sociology and minor in Education. With this, her main goal in life is to help youth find a creative outlet, whether it is through music or writing, she wants to help in any way she can. She loves to sing and dance and overall is here to help the youth have a great time!