Glendale | 07/09/2018-07/20/2018
First Lutheran School


PRICING (2-WEEKS)
Note: All prices shown are for TWO-WEEKS of camp.
$819 Tuition
Tuition includes all instruction, activities and materials. It also includes two camp t-shirts, which should be worn daily. Lunch is NOT included.
Add-Ons
$70 – Morning Supervised Play (8am – 9am)
$140 – Afternoon Supervised Play (3pm – 6pm)
$6 – Extra camp t-shirt (2 shirts are included with your registration)
$6 – Extra camp CD (1 CD is included for each child registered)
Discounts
Family Discount:
$20 off per camper for 2 members of the same family
$30 off per camper for 3 members of the same family
$40 off per camper for 4 members of the same family – please contact us to register 4 or more members of the same immediate family
1300 East Colorado Street, Glendale, CA 91205
07/09/2018 – 07/20/2018 (M-F, 9am – 3pm)

Supervised play available 8am-9am and 3pm-6pm for an additional charge.
Adventures in Writing Camp is excited to come to First Lutheran School this summer with all new curriculum! This location will have first grade, elementary, and middle school programs! Our team of credentialed teachers, musicians and college students is ready to help new campers build confidence and fall in love with writing, and help returning campers continue to develop as writers!
As a note, we group campers by grade level. If your child is attending with a friend and they are entering the same grade, they will be grouped together.
Space available in 1st grade!
Space available in 2nd grade!
Space available in 3rd grade!
Space available in 4th grade!
Space available in 5th grade!
Only 4 spaces remaining in 6th grade!
Only 4 spaces remaining in 7th grade!
Only 5 spaces remaining in 8th grade!


Camp Staff
MEET THE TEAM
Robin Jankiewicz, Site Administrator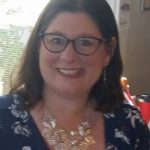 Robin Jankiewicz is returning for her fourth year of writing adventures. Her stories have appeared in Chicken Soup for the Soul's book The Cat Really Did That? and The Miracle of Love. She's eager to watch youngsters grow into the novelists, journalists, and screenwriters they aspire to be.
Ariel Patt, Writing Ranger (Middle School), Writing Ranger (Middle School)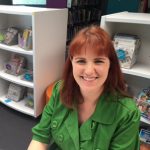 Ariel is delighted to be returning to AIW for her third year as a Writing Ranger this summer! From an early age, Ariel was fascinated by the musicality of language and storytelling. She discovered her passion for creative writing in 1st grade and has been putting pencil to paper as a creative outlet ever since! Ariel is a credentialed teacher with six years of classroom experience at the upper elementary/middle school level. She earned her Masters degree in Education from Mount St. Mary's University and currently teaches 2nd grade at an independent school in Culver City. Ariel loves helping students throughout every stage of the writing process, but she is particularly passionate about helping new writers hone their individual style and author's voice. In her free time, Ariel enjoys baking desserts for family and friends, attending concerts, and volunteering at her local animal shelter.
Brian Klemm, Entertainment Ranger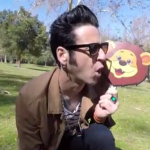 HEY HEY HEY!!!
So glad to be apart of this camp. I have been a touring musician for the better part of 16 years and working for Disney for about 17. I am currently a new father and am so focused on helping to mold small minds and set them on the right path by giving them camp experiences that they can take with them for the rest of their lives. I still have fond memories from my years at camp..... but that was about 52 years ago and they are still fresh.
I am a gentle giant 🙂 I look like a tattooed colorful cartoon character that somewhat resembles a mix between David Duchovny and Elvis. If they somehow had a child together that would be me 🙂 I love comic books! I have been a collector for over 25 years and I'm pretty sure it helps to keep me young.
Most important things to know about me:
I love a good fat lazy cat
I love a good book (the physical kind... not on a kindle or ipad)
I will forever miss the days of good hip hop music
and I will always be a Disneyland pass holder.
Music makes memories. so lets get to work!!!
Chloe Williamson, Secretary of Shenanigans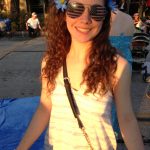 Hello, my name is Chloe, but my camp name is Lucky Clover! Why, you ask? I actually have a little bit of Irish in my blood and I love the idea of being lucky all the time! I also chose this name because my favorite color is green! I was adopted when I was just a baby, so I am extremely blessed and lucky to have the life that I have right now and to be as unique as I am! Hence, Lucky Clover! I have worked with AIW Camp before as an Adventure Guide and I simply cannot wait to get back into it. I love writing and I actually want to become a Children's Books Author! I am a very creative individual and I would love to be able to spread my positivity and creativity to the kids when helping them learn how to write and having fun with it! Write to you heart's content!
Danielle Canas, Supervised Play Supervisor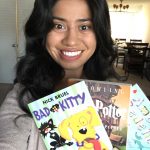 Hi, my name is Danielle Canas and I am so excited to be working at AIW camp as a supervised play supervisor this summer. I love working with kids, it has been a passion of mine since I started teaching Sunday school at my church when I was thirteen years old. Now I've got my bachelors degree in Deaf studies and work for La Canada Unified School district as a paraprofessional. Being a Deaf Studies major meant I had to learn American Sign Language. You want know what the best part about knowing ASL is? You can sign with your friends anywhere you want and no one knows what you're saying, you can also sign through windows and from across the street. It's like a secret agent language, well that's what it feels like anyways. I believe that learning should be fun and I'm always thinking of creative ways for my students to enjoy learning. In my free time I love reading (I'm a huge harry potter fan), hanging out with my friends and family, and going to Disneyland!
Stephanie (Stevie) Tayor, Supervised Play Scout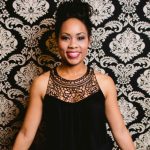 Stephanie, who affectionately goes by Stevie, is an L.A. transplant originally from Michigan. Someone told her she was a writer as a kid and she believed it! Stephanie has been pursuing her writing dreams since middle school and is excited to inspire kids to pursue their love of writing!