San Jose Union | 06/11/2018-06/22/2018
Guadalupe Elementary


PRICING
$769 Early Registration Price ($799 after 03/30/2018)
Tuition includes all instruction, activities and materials. It also includes two camp t-shirts, which should be worn daily. Lunch is NOT included.
Add-Ons
$70 – Morning Supervised Play (8am – 9am)
$140 – Afternoon Supervised Play (3pm – 6pm)
$100 – Daily Lunch & Snack
$6 – Extra camp t-shirt (2 shirts are included with your registration)
$6 – Extra camp CD (1 CD is included for each child registered)
Discounts
Family Discount:
$20 off per camper for 2 members of the same family
$30 off per camper for 3 members of the same family
$40 off per camper for 4 members of the same family – please contact us to register 4 or more members of the same immediate family
6044 Vera Cruz Drive, San Jose, CA 95120
06/11/2018 – 06/22/2018 (M-F, 9am – 3pm)
Supervised play available 8am-9am and 3pm-6pm for an additional charge.
Adventures in Writing Camp is excited to come to Guadalupe Elementary this summer with all new curriculum! This location will have first grade, elementary, and middle school programs! Our team of credentialed teachers, musicians and college students is ready to help new campers build confidence and fall in love with writing, and help returning campers continue to develop as writers!
Space available in 1st grade!
Space available in 2nd grade!
Space available in 3rd grade!
Space available in 4th grade!
Space available in 5th grade!
Space available in 6th grade!
Space available in 7th grade!
Only 4 spaces remaining in 8th grade!


Camp Staff
MEET THE TEAM
Nicholas Friebel, Site Administrator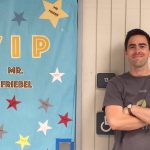 Nicholas is a fifth grade teacher at Cumberland Elementary School in the Sunnyvale School District and loves working with his students on their writing!
This will be Nicholas' first summer working with Adventures in Writing Camp and he is so excited to work with all of the campers! Prior to working as a fifth grade teacher and joining Adventures in Writing Camp for the summer, he taught English as a second language at Amity in Shizuoka, Japan and worked as a special education paraprofessional for the Palo Alto Unified School District. Additionally, he earned a Master's of Education: Curriculum and Instruction from Notre Dame de Namur University in Belmont, California and a Bachelor's in English from Colorado College in Colorado Springs, Colorado.
Nicholas can't wait to begin writing with his campers this summer!