Rancho Santa Margarita | 07/31/2017-08/11/2017
Mission Hills Christian School


PRICING
$759 Tuition
Tuition includes all instruction, activities and materials. It also includes two camp t-shirts, which should be worn daily. Lunch is NOT included.
Add-Ons
$70 – Morning Supervised Play (8am – 9am)
$140 – Afternoon Supervised Play (3pm – 6pm)
$6 – Extra camp t-shirt (2 shirts are included with your registration)
$6 – Extra camp CD (1 CD is included for each child registered)
Discounts
Family Discount:
$20 off per camper for 2 members of the same family
$30 off per camper for 3 members of the same family
$40 off per camper for 4 members of the same family – please contact us to register 4 or more members of the same immediate family
29582 Aventura, Rancho Santa Margarita, CA 92688
07/31/2017 – 08/11/2017 (M-F, 9am – 3pm)
Supervised play available 8am-9am and 3pm-6pm for an additional charge.
Adventures in Writing Camp is excited to come to Rancho Santa Margarita's Mission Hills Christian School this summer! This location will have first grade, elementary, and middle school programs! Our team of credentialed teachers, musicians and college students is ready to help campers build confidence and fall in love with writing!
Space available in 1st grade!
Space available in 2nd grade!
Space available in 3rd grade!
Space available in 4th grade!
Space available in 5th grade!
Space available in 6th grade!
Space available in 7th grade!
Space available in 8th grade!


Camp Staff
MEET THE TEAM
Christine Joines, Site Administrator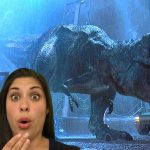 Creative Christine can't wait to meet all of the campers this summer! She is passionate about reading and writing and knows the campers will be too!
When Creative Christine is not at Adventures in Writing Camp, she teaches 5th grade language arts. She has been teaching for 8 years and couldn't think of anything she would rather be doing! Besides reading, Christine loves going to Disneyland with her family!
She can't wait to meet everyone, this is going to be the best summer yet!
Philip Black, Entertainment Ranger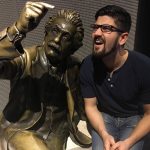 This is Philip Black's first summer working with Adventures in Writing Camp, and he is VERY excited about it. He received his B.A. in Theatre Performance from Huntington University (in Huntington, IN), where he was a member of the Alpha Chi Honor Society, the Alpha Psi Omega Theatre Honor Society, and a Colloquium Scholar.
He has spent the past 7 years working at theaters across America, performing mostly in comedies and musicals. Making people laugh is the thing he enjoys most, followed closely by READING. As he has traveled, he has made a point of always joining the local library. At last count, he has 5 active library cards.
Along the way, Philip has also developed a distinct passion for TEACHING, helping to run educational "backstage experience" tours in Michigan, doing interactive Treasure Island performances for grade students in Missouri, and teaching for two summers at Camp Melodrama, a theatrical camp for students K-8 in California's Central Coast.
He currently spends his days as a full-time presenter with California Weekly Explorer, doing interactive history presentations for grades 4-6 all over Orange County.
Kristina Fecarotta, Adventure Guide (Counselor)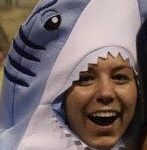 Kristi loves dancing around in her shark costume! When she is not dressed as a shark, you can find her at Boston College! She studies Communications and English, and is also on the swim team at BC.
Kristi loves writing, and hopes to one day write for a television show. Growing up, Kristi watched TV comedies, such as SNL and Modern Family, and they inspired her to write comedy in the future!
Kristi loves having fun, and is excited for more adventures in writing to come!