Anaheim Hills | 07/24/2017-08/04/2017
Canyon Hills


PRICING
$699 Tuition
Tuition includes all instruction, activities and materials. It also includes two camp t-shirts, which should be worn daily. Lunch is NOT included.
Add-Ons
$40 – Morning Supervised Play (8am – 9am)
$80 – Afternoon Supervised Play (3pm – 6pm)
$6 – Extra camp t-shirt (2 shirts are included with your registration)
$6 – Extra camp CD (1 CD is included for each child registered)
Discounts
Family Discount:
$20 off per camper for 2 members of the same family
$30 off per camper for 3 members of the same family
$40 off per camper for 4 members of the same family
190 South Fairmont Blvd., Anaheim, CA 92808
07/24/2017 – 08/04/2017 (M-F, 9am – 3pm)
Supervised play available 8am-9am and 3pm-6pm for an additional charge.
Adventures in Writing Camp is excited to come to Anaheim's Canyon Hills Presbyterian Church this summer! This location will have first grade, elementary, and middle school programs! Our team of credentialed teachers, musicians and college students is ready to help campers build confidence and fall in love with writing!
Space available in 1st grade!
Space available in 2nd grade!
Space available in 3rd grade!
Space available in 4th grade!
Space available in 5th grade!
Only 5 spaces remaining in 6th grade!
Space available in 7th grade!
Space available in 8th grade!


Camp Staff
MEET THE TEAM
Richelle Apiz, Site Administrator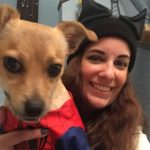 My name is Richelle Apiz, and I am excited to be returning to camp this year as a Writing Ranger and Camp Director. I have been working with children of all ages for many years. I earned my Bachelor degree in Child Development from California State University, Fullerton and my Multiple Subject Teaching Credential and Master of Arts in Teaching from University of California, Irvine. I love sharing my passion for learning, reading, and telling stories with my students. I believe learning can be fun by incorporating songs, games, and imagination. When I am not teaching, I love scrapbooking, hiking, and playing with my dog, Oliver.
Alison Stallcup, Writing Ranger (1st Grade)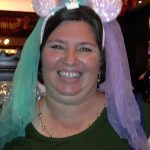 Alison Stallcup is thrilled to begin her first session at Adventures in Writing Camp. Alison recently moved to Orange County from Denver, Colorado where she taught 2/3 grades. She has more than 20 years teaching experience, PreK-5 and college. Alison holds a Bachelors degree in Elementary Education and a Masters degree in Curriculum and Instruction from the University of New Mexico, Albuquerque. She also has earned an endorsement for Teaching English as a Second or Other Language from the University of Northern Colorado. Her son recently graduated high school and will be pursuing his degree from Relativity School in Los Angeles. Outside of teaching, she loves to spend time with her family & friends, read, watch movies, sing & dance, and of course, write! Being a newcomer to California, she also intends to spend time at the beach!
Daryl Tripp, Writing Ranger (Middle School)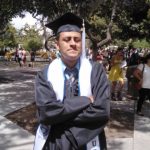 Daryl has been a teacher for the last three years in Los Angeles and Santa Ana teaching History, Drama, Math and Science. Over these years he has learned how to make education fun and engaging! Outside of school, Daryl is a student at USC working toward his Masters in Education.
Cullen Bonham, Entertainment Ranger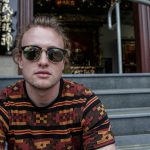 This will be Cullen's second year with Adventures in Writing Camp! He is a Southern California native with a passion for music and education. Cullen works as a resource educator for the Tustin School District and spends the majority of his free time as a studio musician and song writer. He is beyond excited to share the joy of music and writing with the next generation of talented youngsters!
Paige Pickler, Adventure Guide (Counselor)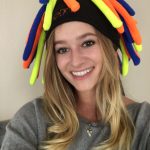 Paige Pickler loves being creative. She often teaches art lessons at her old elementary school.
She also loves reading all different kinds of books. When Paige isn't surfing or swimming at the beach, she brings along a book to read in the sand.
Growing up, Paige ice skated and performed in many competitions and Holiday Shows. Paige designed her own costumes and loved helping her coaches come up with new choreography for her programs.
Paige is studying art at Cal State University San Marcos, where she has been on the Dean's List for her three years there. Paige is a member and founder of Unheard Voices, an activism club on campus. She also helped put on a dance performance for school last semester and is excited to share her moves with all the campers!
Madyson Hill, Adventure Guide (Counselor)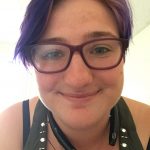 Madyson is a sophomore in college and loves to write and sing and dance. She is so excited to be an Adventure Guide and share her enthusiasm for creativity at Adventures in Writing Camp this summer!
Kirstin Joyce, Adventure Guide (Counselor)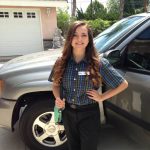 Kirstin's favorite movie growing up was Beauty and the Beast – most girls wanted the castle, but she just wanted the library. As an English major and aspiring teacher at California State University Chico, she's fortunate enough to have been hired as an English and Political Science mentor on her campus, and gets to spend lots of time guiding incoming freshman to success in their classes.
As a member of the mentoring program, she has been trained in methods of teaching that include hands on learning, group activities, and making sure others feel positive about themselves and their abilities within a the classroom.
Her personal take on writing? It is one of the best ways that young minds can express and discover themselves, and she is crazy excited to be working with so many creative kids!
When she's not hitting the books or coming up with story ideas (she would read and write all day if she could), you can probably find her at the theater house or in the nearest cupcake shop – she seriously loves those things!
Jessie Yount, Adventure Guide (Counselor)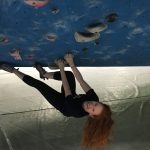 Jessie loves to write stories and she can't wait to share her passion with all the campers! She studies at UC Irvine where she's an English major and aspiring writer. She fell in love with reading at a young age, and in second grade her favorite teacher inspired her to start writing her own short stories!
When Jessie doesn't have a pen and paper in hand, she spends her time outdoors camping, rock climbing, or doing acro yoga! She loves exploring new places and going on adventures with her friends. She is also a very lucky youth coach at a rock climbing gym and absolutely loves to help the kids reach their goals and have fun!