Palo Alto | 06/19/2017-06/30/2017
Escondido Elementary


PRICING
$799 Tuition
Tuition includes all instruction, activities and materials. It also includes two camp t-shirts, which should be worn daily. Lunch is NOT included.
Add-Ons
$70 – Morning Supervised Play (8am – 9am)
$140 – Afternoon Supervised Play (3pm – 6pm)
$6 – Extra camp t-shirt (2 shirts are included with your registration)
$6 – Extra camp CD (1 CD is included for each child registered)
Discounts
Family Discount:
$20 off per camper for 2 members of the same family
$30 off per camper for 3 members of the same family
$40 off per camper for 4 members of the same family – please contact us to register 4 or more members of the same immediate family
890 Escondido Rd, Stanford, CA 94305
06/19/2017 – 06/30/2017 (M-F, 9am – 3pm)
Supervised play available 8am-9am and 3pm-6pm for an additional charge.
Adventures in Writing Camp is excited to return to Palo Alto this summer at our new "home" at Escondido Elementary. We will have a new curriculum this summer (as always), and the session at Escondido will have first grade, elementary, and middle school programs! Our team of credentialed teachers, musicians and college students is ready to help new campers build confidence and fall in love with writing, and help returning campers continue to develop as writers!
Space available in 1st grade!
Space available in 2nd grade!
Space available in 3rd grade!
Space available in 4th grade!
Space available in 5th grade!
6th Grade is FULL for this camp! Click HERE to be added to the waitlist.
Only 5 spaces remaining in 7th grade!
Only 4 spaces remaining in 8th grade!


Camp Staff
MEET THE TEAM
Tyler Webb, Site Administrator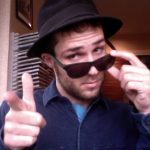 Tyler is an high school English teacher who loves to be creative. He got bachelors degrees in English and Communication at UC Davis, and continued on to get his teaching credential from San Jose State University. He had a blast last summer as a Writing Ranger, but is beyond excited to be working this year as a Site Administrator at Lincoln Elementary School. A Burlingame native who attended Roosevelt Elementary School right down the street, he loves the community and cannot wait to meet the area's young writers and their families. Writing, drawing, music – you name it, Tyler is a fan. In his free time, you can find Tyler writing poetry, inventing short stories, playing music, making witty puns, or attacking the hoop on the basketball court (he is a Warriors fanatic). Come tell him your favorite joke, or just say hello!
Yvette Welch, Writing Ranger (1st Grade)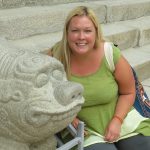 When Yvette is not teaching at Notre Dame Elementary or Adventures in Writing Camp, she can be found exploring the world looking for the next great adventure. Returning for her second session, Yvette is looking forward to creating new worlds with the tip of her pencil. She is a former whitewater raft guide, loves traveling and avid foodie.
Yvette is currently attending Notre Dame de Namur University acquiring her Masters in Education. This adventuresome teacher is looking forward to another wonderful summer with AIW!!!
Nicole Bella, Writing Ranger (Middle School)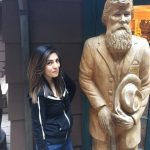 Nicole loves history, writing, reading, and she considers herself an academic nerd! She loves working with students and seeing those special moments where they are engaged and pumped about learning! She especially loves working with middle schoolers as they are the silliest, most fun group to work with! She laughs alongside her kiddos and they have an amazing time learning whether they are acting out skits together during a class reading or putting together multimedia projects in the form of videos or podcasts. She is especially excited to help students find their writing voice through the use of technology this summer!
James Francis McGee, Writing Ranger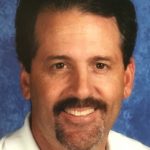 James McGee was born in Providence Hospital five years before Neil Armstrong walked on the moon. James grew up on an obscure island in the San Francisco Bay as he learned to read and write and play. After 28 years of teaching students ranging from 4 to 75 years of age, Mr. McGee will be teaching at Adventures in Writing Camp this summer as he continues to write countless children's books with invisible ink on Egyptian papyrus. As Mr. McGee always says, "Creativity is the key!"
Grace Trout, Entertainment Ranger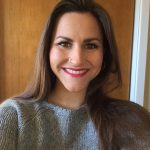 Welcome back, Goofy Grace Grace! Yes, her first and middle name are the same. You can call her Grace Grace!
Fun Facts: She loves gummy bears and roller skating!
She's so excited to meet and spend another summer camp with all the campers!
Kalkidan Worku, Adventure Guide (Counselor)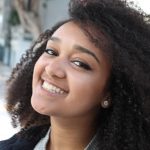 Kalkidan is a high school graduate that will be attending UC Santa Barbara in the fall majoring in biology! She has experience working with kids in summer camps in Ethiopia, and she has done a lot of volunteer work with children. Kalkidan hopes to help kids learn and love to write while having fun this summer!
Cassandra Bond, Adventure Guide (Counselor)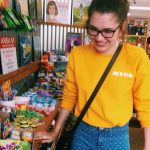 Cassie is an avid cat lover, an artist, and loves to read and write! She is thrilled to be apart of camp this summer and is excited to get to know everyone.
She has also been playing the piano for many years, and loves to sing and perform. She was in her high school choir and loved traveling the world singing with her friends. Cassie also has a passion for art, and focuses on telling a story through her work.
Having just graduated from Gunn High School, she will be attending Skidmore College in the fall to study studio art. Cassie is beyond excited to continue to grow her skills in college, and can't wait to have an amazing summer at camp!
Dancin' Derry, Adventure Guide (Counselor)
Derry is a graduate of psychology and she is excited to join the Adventures in Writing Camp team this summer! She loves art, music, poetry, ice cream, and dance, and can usually be found out gardening in her spare time. Derry can't wait to meet you at camp!
Sarah May Morris, Adventure Guide (Counselor)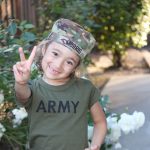 When's she's not at camp during summer, you can find Sarah May during the school year at Escondido Elementary working with her amazing special education students!
And when she's not at school, she's at home with her amazing wife and third grade daughter finding adventures at every turn.
She not only loves reading and writing, but she adores all of her many kiddos!
So it's no surprise to find her here at Adventures in Writing Camp where she can help teach, influence, and have fun with children of all ages!
Kate Matheson, Adventure Guide (Counselor)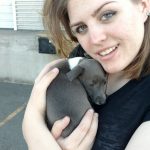 Kate Matheson is an upcoming Senior at the San Francisco Conservatory of Music. She loves to sing, act, and play games! She loves creativity and can't wait to put her entertainment skills to use to bring the joy of writing to campers!
Arin Spanner, Adventure Guide (Counselor)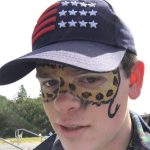 Adventure Guide Arin Spanner is absolutely thrilled to return for his second year at Adventures in Writing Camp! Hailing from Menlo Park, Arin currently attends UC Santa Cruz where he is double-majoring in Business Management Economics and Psychology. At college he stays active, writing for the local campus newspaper and approving funding for a variety of on-campus activities.
When he kicks back, Arin enjoys to read, especially Patrick Rothfuss' Kingkiller Chronicles. He is crazy for Hamilton and knows the words to every song by heart. Arin believes that if a camper believes in themselves, they can accomplish whatever they set their minds to. He loves working with kids and can't wait to see some fantastic stories this summer!
Samantha Schwartz, Adventure Guide (Counselor)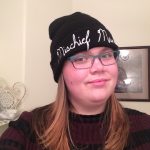 Sam is thrilled to be joining Adventures in Writing for her first year, and can't wait to get started! She is a crazy Harry Potter fan (her house is Ravenclaw) who has loved writing for almost as long as she can remember! She loves Superheroes (but come on, who doesn't), and spending time debating the complexities of the multiverse with her roommates when they stay in on Friday nights. She runs a blog and webshow for the Marauders in the Harry Potter Universe, and plays Sirius Black herself with her partner in crime (also known as her roommate) playing James Potter, but all their mischief has not yet been managed!
Kristine Tsung, eBook Ranger
Kristine Tsung loves working with children. She is a high honors graduate of UC Berkeley, and a Joint Teacher's Credential with Masters in Education candidate at San Jose State University. She is the owner and Chief Creator of BuzzingBOTS (yaybots.com), an award winning multimedia property for tweens. Winner of the business pitch competition in 2009, Ms. Tsung was interviewed on CBS TV where she showcased BuzzingBOTS. At the Santa Clara University Baby Boomer B-Plan Competition, her business plan targeted to boomer parents took the semi finalist position. Recently, BuzzingBOTS was a top 8 finalist in PACER's National Bullying Prevention Center Students With Solutions contest. Ms. Tsung helped launch Youth Charge Now!, a non-partisan civic engagement group energizing Asian American youth. She helped cross promote Asian Heritage Night to welcome NBA rookie Jeremy Lin making history with 17,000+ in attendance. Her mission is to connect different interests to work towards a global future – to connect, inspire and integrate. Kristine is looking forward to sharing her expertise and enthusiasm with the campers this summer!