Livermore | 07/31/2017-08/11/2017
Mendenhall Middle School


PRICING
$699 Tuition
Tuition includes all instruction, activities and materials. It also includes two camp t-shirts, which should be worn daily. Lunch is NOT included.
Add-Ons
$40 – Morning Supervised Play (8am – 9am)
$80 – Afternoon Supervised Play (3pm – 6pm)
$6 – Extra camp t-shirt (2 shirts are included with your registration)
$6 – Extra camp CD (1 CD is included for each child registered)
Discounts
Family Discount:
$20 off per camper for 2 members of the same family
$30 off per camper for 3 members of the same family
$40 off per camper for 4 members of the same family
1701 El Padro Dr, Livermore, CA 94550
07/31/2017 – 08/11/2017 (M-F, 9am – 3pm)
Supervised play available 8am-9am and 3pm-6pm for an additional charge.
Adventures in Writing Camp is excited to return to Livermore this summer, in our new home at Mendenhall Middle School. We will have a new curriculum, by the same energy and feel that has made the program so popular in the past. This location will have first grade, elementary, and middle school programs!
Families who attend Livermore Valley JUSD schools may use the codes below to receive discounted tuition of $475 per camper.
Registration covers both weeks of program. To receive this registration discount, families with one or more children attending LVJUSD should use the case-sensitive code LVJUSD1 at checkout when registering one camper, or LVJUSD2 at checkout when registering two campers. Please contact us if registering three or more campers.
Our team of credentialed teachers, musicians and college students is ready to help new campers build confidence and fall in love with writing, and help returning campers continue to develop as writers!
Space available in 1st grade!
Space available in 2nd grade!
Space available in 3rd grade!
Space available in 4th grade!
Space available in 5th grade!
Space available in 6th grade!
Space available in 7th grade!
Only 2 spaces remaining in 8th grade!


Camp Staff
MEET THE TEAM
Sandra Elliott, Site Administrator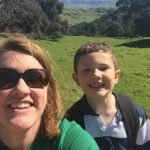 Hello Campers, Mrs. Elliott lives in Pleasanton with her sons, Preston and Carson, and husband Daniel. They love to hike, travel and go to baseball games. Mrs. Elliott is the official family photographer, no event is too big or small for her to capture the adventures. Her specialty shots are family selfies. Currently, she teaches 8th grade Honors English and History at Mendenhall Middle School. Mrs. Elliott enjoys the spirit and spunk of junior high students. This is her second year with AIW and she is so excited to share the fun of writing with all your campers!
Dr. Cynthia Cohen, Writing Ranger (Middle School)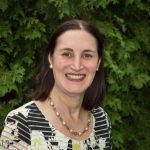 Writing is fun! Dr. Cohen has a BA in History from Yale University, a MA in English Literature from the University of London, and a PhD in English Education from the University at Buffalo. In her English classes, Dr. Cohen uses written texts alongside video clips to compare interpretations of books. She also incorporates role-playing, debates, small groups, jigsawing, collaborative writing, and other media, such as music and artwork, into class discussions of the books. At Adventures in Writing Camp, she will be using technologies, such as blogs. Dr. Cohen looks forward to getting to know all of the students in her summer classes and working to develop their writing skills!
Michelle Nunes, Writing Ranger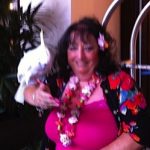 Wow! Michelle is so excited to be coming back to Adventures in Writing Camp! This will be her second year. Writing has been a passion for Michelle since she was a child. She loves bringing out the creativity and passion that writing brings in her students!
Michelle has taught in the Livermore School District for 19 years. She teaches fifth grade at Junction K-8. She also teaches drama there on Fridays. In her free time she loves spending time with family and friends, reading, working out, and Michelle has started writing children's books that she hopes might be published some day. Hawaii is her favorite vacation place with beautiful beaches and great weather. AIW Camp is such a fun way to instill the love of writing in those who attend! Michelle is really looking forward to a fantastic camp filled with fun, laughter, music and of course, awesome writing!! See you at camp!! Hang loose!
Jenny Madrigal, Entertainment Ranger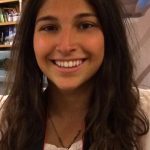 Jenny loves music, and enjoys sharing it with lemurs of all ages! She graduated from Berklee College of Music in Boston, MA with a dual bachelor degree in Music Therapy and Music Business. She has experience using music therapy in schools and in Rady Children's Hospital in San Diego. When Jenny is not playing an instrument or singing, she's on a mission to find a new book to read. She is looking forward to Adventures in Writing Camp and cannot wait to jump in!
Samara Maamo, Adventure Guide (Counselor)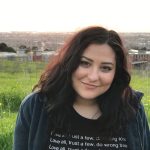 This is Samara, but you can call her Sam, and this will be her third year as an Adventure Guide! She loves being silly and being creative! She believes that AIW Camp is the best place to learn and have fun at the same time. Sam is currently a junior at CSU East Bay, studying sociology. She is also learning American Sign Language, which is a new passion of hers! Her favorite thing to do on her free time is to skateboard, make videos, and go on adventures. Sam can not wait to be an Adventure Guide again this year and help write a whole lot of books!
Victoria Naylor, Adventure Guide (Counselor)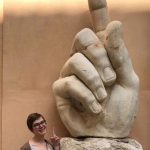 Victoria Naylor's favorite thing to do is write!
She likes it SO much, she studies English at University of Washington, and is currently in a creative writing program!
Victoria grew up playing music. She played the oboe and the saxophone for 7 years before deciding to dedicate her time to studying and writing poetry.
Victoria loves teaching and is very excited to spend another summer teaching kids how to write!