San Mateo | 07/31/2017-08/11/2017
Hope Lutheran Church


PRICING
$739 Tuition
Tuition includes all instruction, activities and materials. It also includes two camp t-shirts, which should be worn daily. Lunch is NOT included.
Add-Ons
$40 – Morning Supervised Play (8am – 9am)
$80 – Afternoon Supervised Play (3pm – 6pm)
$6 – Extra camp t-shirt (2 shirts are included with your registration)
$6 – Extra camp CD (1 CD is included for each child registered)
Discounts
Family Discount:
$20 off per camper for 2 members of the same family
$30 off per camper for 3 members of the same family
$40 off per camper for 4 members of the same family
600 42nd Avenue, San Mateo, CA 94403
07/31/2017 – 08/11/2017 (M-F, 9am – 3pm)
Supervised play available 8am-9am and 3pm-6pm for an additional charge.
Adventures in Writing Camp is excited to return to San Mateo's Hope Lutheran Church with new curriculum this summer! This location will have first grade, elementary, and middle school programs! Our team of credentialed teachers, musicians and college students is ready to help new campers build confidence and fall in love with writing, and help returning campers continue to develop as writers!
Only 1 space remaining in 1st grade!
Space available in 2nd grade!
Only 1 space remaining in 3rd grade!
Only 1 space remaining in 4th grade!
Only 1 space remaining in 5th grade!
Only 3 spaces remaining in 6th grade!
Only 2 spaces remaining in 7th grade!
Only 1 space remaining in 8th grade!


Camp Staff
MEET THE TEAM
Bethany Edstrom, Site Administrator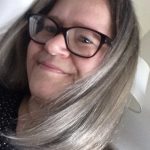 For many years, Bethany was a teacher and administrator in boarding schools, where she not only taught English but also lived in the dorms as a surrogate mom for high school students from all around the world. She now works as an epic freelancer, combining writing, editing, tutoring, curriculum design, summer camp administration, and childcare into a busy, happy life based in San Francisco, where she lives in her childhood home with her 93 year-old father and their three cats. In addition to her work, Bethany is an avid reader and writer of fiction, nonfiction, and poetry, and she also enjoys cooking, knitting, and swimming. Bethany is looking forward to a summer of inspiring young writers at AIW's San Mateo site this summer!
Rachel Luther, Writing Ranger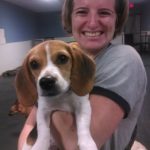 Rachel Luther is excited for her first summer teaching at Adventures in Writing Camp!
She is an elementary school teacher who loves teaching all grades and subjects. She received her multiple subject credential from CSU East Bay and has a BA degree in Child and Adolescent Development from San Jose State.
Rachel also has lots of summer camp experience – as a camper, a counselor, and as a rock climbing instructor! In previous summers, she worked at Camp Newman, the Petaluma Wildlife Museum Summer Camp, and Seafari Camp at Six Flags Discovery Kingdom.
Other jobs she has had are working at a dog daycare and as a gymnastics coach. If you ask nicely, she might teach you to cartwheel!
Yvette Welch, Writing Ranger (1st Grade)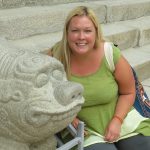 When Yvette is not teaching at Notre Dame Elementary or Adventures in Writing Camp, she can be found exploring the world looking for the next great adventure. Returning for her second session, Yvette is looking forward to creating new worlds with the tip of her pencil. She is a former whitewater raft guide, loves traveling and avid foodie.
Yvette is currently attending Notre Dame de Namur University acquiring her Masters in Education. This adventuresome teacher is looking forward to another wonderful summer with AIW!!!
Mercedes Taylor, Writing Ranger (Middle School)
Mercedes works with wacky 7th graders at Ingrid B. Lacy Middle School in Pacifica. She has taught middle school Language Arts for 14 years in both Los Angeles and the Bay Area; she uses her classroom to practice her one woman comedy show (her students are not amused). Her classroom is a place for fun and she loves her students. She has written curriculum for her school district and has served as a mentor for aspiring teachers. In her spare time, Mercedes practices yoga and cuddles with her cat, Dustin. This is her first year working as a Site Administrator for Adventures In Writing and she is really excited!
Olivia Obidah-Dunn, Entertainment Ranger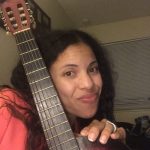 Olivia is excited to be joining Adventures in Writing Camp for the first year! She is glad to find a place where so many of her passions come together: music, the awesome power of storytelling, and camp!
Olivia has taught in the classroom for three years, including one in Hayward and one in Oakland, CA. She has taught every subject, but loves teaching performing arts the most. When not in the classroom, she is working on her acting career; this month she was in her first film and had her first Broadway audition! Welcome to AIW Camp!
Nikki Moslehi, Adventure Guide (Counselor)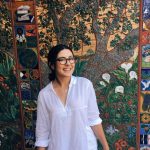 Nikki loves working with children and learning different languages, and reading stories in those languages!
Growing up, Nikki learned Farsi, French, and Spanish, and is now pursuing Japanese. She uses these languages when working with kids, as she has volunteered at summer camps, preschools, and during her nannying. In addition to that, she loves dancing and choreographing dances, painting, and drawing animations; anything that can make learning as exciting as possible!
When she is not practicing languages or working with kids, Nikki is studying design and education at UC Davis, where she also focuses on studying Spanish, French, and Japanese.
Khalil Droubi, Adventure Guide (Counselor)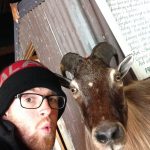 Khalil loves creating all forms of art.
He has just finished his first year at UC Santa Barbara, where he studies physics and is an active member of the jazz program! Khalil loves learning about new cultures. For example, he just finished a 10-week long course on Samurai Culture, and would be happy to share his knowledge to anyone who asks.
With experience working at similar camps in the past, Khalil is excited to return to inspiring a new group of campers. When he is not sharing his enthusiasm for learning and writing, Khalil likes to rock climb, take photographs, and play trombone with his jazz band!
Nikita Srinivasan, Adventure Guide (Counselor)
Nikita is super excited to be part of the team for the first time this year, especially as an Adventure Guide! She's currently a graphic design student at Chapman University, so she loves putting a creative twist on everything she does, even when she's learning! Although art is her main passion, she dabbled in a little bit of theatre all throughout high school, starting off on stage and eventually moving onto becoming stage manager! Nikita always has a smile on her face and can't wait to work with the campers this summer on super cool activities!
Eric Whitson, Adventure Guide (Counselor)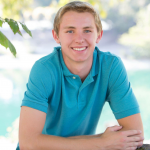 This is Eric's first summer with Adventures in Writing Camp, and he's so excited to share his enthusiasm for creativity and writing with the campers!
Amy Li, Adventure Guide (Counselor)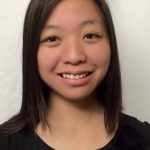 Amy has a passion for working with kids. As a 5′ 0″ college student, she still has the heart of a child and incredible curiosity and creativity that she brings into her workplace. She is trained tutor in the Purdue OWL Writing Lab, and loves to help students improve their writing abilities!
Jacqueline Kajisa, Adventure Guide (Counselor)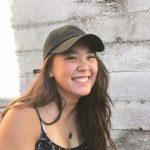 Jackie is a student at the University of California, Santa Barbara and spends most of her time outdoors rock climbing, hiking, and spending time at the beach. She also very interested in writing and poetry and is glad to participate in a camp that encourages creativity in kids. This is her first year with Adventures in Writing Camp as an Adventure Guide and she is really enjoying getting to know the campers and helping them both improve their writing skills and have fun in the process!
Allegra Ceseña, Adventure Guide (Counselor)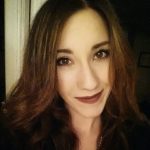 Allegra Ceseña recently earned her Bachelor's Degree in English Literature from California State University, Channel Islands. Since moving to the Bay Area to continue her education, Ms. Ceseña has spent the last year teaching after school enrichment courses through Bay Area communities programs. Her experiences paired with her passion for research oriented writing, interdisciplinary studies, and multicultural literature have led her to continue her education as she works toward earning a Teaching Credential in the coming year. Her long term goal is to teach High School Literature here in the Bay Area.
Amy Smoller, eBook Ranger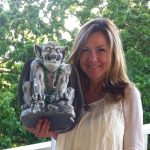 When she first stepped onto the shuttle bus that took her from the US State Department to Marymount University in Arlington, Virginia, little did she know what excitement lay ahead. Although she originally wanted to pursue a teaching career in German, she received her Master's Degree and Multiple Subject Credential in Education and later her Single Subject Social Studies Credential. She has taught nearly every subject and grade in the San Ramon Unified School District for more than 27 years. Fortunately, circuitously, although the German language was no longer being taught in most schools, she did finally get the opportunity to become a tutor.
Growing up, her favorite dinosaur was always the Thesaurus. Her passion for teaching writing comes from having professional writers as parents. As thesaurophiles, they imparted the joy and value of finding the perfect word for the perfect moment. Amy often entered her stories in writing contests, and on occasion she even won! Of course, she had many exciting experiences to draw from, including her bit parts in two major Hollywood films while living in Vienna, Austria. Years later, while in graduate school, she was given the honor of presenting her research paper on reading acquisition at the National Reading Conference in Palm Springs.
Amy is a mother-of three foodie, with a passion for live music, camping and the outdoors, hiking, biking, and travel. She lives in Oakland where she enjoys the beautiful Lake Merritt with its abundance of happy people. Currently, she is busy working on her next project: her plan to take the thesaurus off of the endangered list.