Newport Beach | 07/10/2017-07/21/2017
Carden Hall


PRICING
$729 Early Registration Price ($759 after 03/30/2018)
Tuition includes all instruction, activities and materials. It also includes two camp t-shirts, which should be worn daily. Lunch is NOT included.
Add-Ons
$70 – Morning Supervised Play (8am – 9am)
$140 – Afternoon Supervised Play (3pm – 6pm)
$6 – Extra camp t-shirt (2 shirts are included with your registration)
$6 – Extra camp CD (1 CD is included for each child registered)
Discounts
Family Discount:
$20 off per camper for 2 members of the same family
$30 off per camper for 3 members of the same family
$40 off per camper for 4 members of the same family – please contact us to register 4 or more members of the same immediate family
1541 Monrovia Avenue, Newport Beach, CA 92663
07/10/2017 – 07/21/2017 (M-F, 9am – 3pm)
Supervised play available 8am-9am and 3pm-6pm for an additional charge.
Adventures in Writing Camp is excited to return to Carden Hall in Newport Beach! This location will have first grade, elementary, and middle school programs! Our team of credentialed teachers, musicians and college students is ready to help new campers build confidence and fall in love with writing, and help returning campers continue to develop as writers!
Space available in 1st grade!
Space available in 2nd grade!
Space available in 3rd grade!
Space available in 4th grade!
Space available in 5th grade!
Space available in 6th grade!
Space available in 7th grade!
Only 5 spaces remaining in 8th grade!


Camp Staff
MEET THE TEAM
Evelyn Seto, Site Administrator
Evelyn Seto is currently a 4th grade GATE teacher in Long Beach, California. She has taught for many years in grades 1st through 6th grade. Evelyn has a passion for teaching writing and helping young writers express their thoughts. She finds it inspirational for students to take ownership of their writing and make it unique…and creative! She earned her BA from Cal State Long Beach in Liberal Studies with an English concentration, and a MS from National University in Curriculum and Instruction. In her spare time, she likes to spend time with her children, husband, and two dogs. You will often find all of them camping or going on walks on the beach!
Cat Wright, Writing Ranger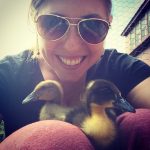 Originally from the east, Cat Wright ventured west in 2015 to complete her Masters Degree in Education from Oregon State University. She enjoyed her year nestled in the majestic Cascade Mountains before moving to the Oregon Coast last August to teach 2nd grade. Cat is now a happy, new resident of The Golden State and will be continuing her teaching career in Davis for the 2017/18 school year. On the weekends, you might find her adventuring in the forest or groovin' to her favorite tunes. She is an avid animal lover and can't resist the color purple. Cat is a huge fan of Mister Lemur and his friends, and couldn't be happier to be part of the Adventures in Writing Camp family for her first time this summer!
Jessie Yount, Adventure Guide (Counselor)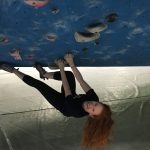 Jessie loves to write stories and she can't wait to share her passion with all the campers! She studies at UC Irvine where she's an English major and aspiring writer. She fell in love with reading at a young age, and in second grade her favorite teacher inspired her to start writing her own short stories!
When Jessie doesn't have a pen and paper in hand, she spends her time outdoors camping, rock climbing, or doing acro yoga! She loves exploring new places and going on adventures with her friends. She is also a very lucky youth coach at a rock climbing gym and absolutely loves to help the kids reach their goals and have fun! 
Paige Pickler, Adventure Guide (Counselor)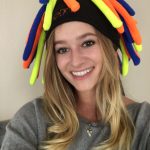 Paige Pickler loves being creative. She often teaches art lessons at her old elementary school.
She also loves reading all different kinds of books. When Paige isn't surfing or swimming at the beach, she brings along a book to read in the sand.
Growing up, Paige ice skated and performed in many competitions and Holiday Shows. Paige designed her own costumes and loved helping her coaches come up with new choreography for her programs.
Paige is studying art at Cal State University San Marcos, where she has been on the Dean's List for her three years there. Paige is a member and founder of Unheard Voices, an activism club on campus. She also helped put on a dance performance for school last semester and is excited to share her moves with all the campers!