Fremont | 07/24/2017-08/04/2017
Temple Beth Torah


PRICING
$699 Tuition
Tuition includes all instruction, activities and materials. It also includes two camp t-shirts, which should be worn daily. Lunch is NOT included.
Add-Ons
$40 – Morning Supervised Play (8am – 9am)
$80 – Afternoon Supervised Play (3pm – 6pm)
$6 – Extra camp t-shirt (2 shirts are included with your registration)
$6 – Extra camp CD (1 CD is included for each child registered)
Discounts
Family Discount:
$20 off per camper for 2 members of the same family
$30 off per camper for 3 members of the same family
$40 off per camper for 4 members of the same family
42000 Paseo Padre Parkway, Fremont, CA 94539
07/24/2017 – 08/04/2017 (M-F, 9am – 3pm)
Supervised play available 8am-9am and 3pm-6pm for an additional charge.
Adventures in Writing Camp is excited to return to Fremont's Temple Beth Torah with new curriculum this summer! This location will have first grade, elementary, and middle school programs! Our team of credentialed teachers, musicians and college students is ready to help new campers build confidence and fall in love with writing, and help returning campers continue to develop as writers!
Space available in 1st grade!
Space available in 2nd grade!
Space available in 3rd grade!
Space available in 4th grade!
Space available in 5th grade!
Only 2 spaces remaining in 6th grade!
Space available in 7th grade!
Only 2 spaces remaining in 8th grade!


Camp Staff
MEET THE TEAM
Joanna Wagner, Site Administrator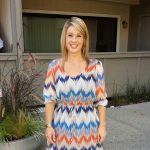 Joanna is a people person who thrives on her social interactions with others! This will be her first summer with AIW and she is delighted to be joining the team as a Site Admin! Joanna is a Los Altos native, but moved to Pleasanton last July for a new teaching job in Fremont. Joanna has taught 3rd grade for three years and will be finishing up her first year at BASIS Independent Fremont. Joanna will be switching roles next school year to teach 1st and 3rd grade Humanities, she is very excited that she will get the opportunity to pass her love of writing onto her students.
In her free time, Joanna enjoys traveling, shopping, dining out, reading and spending times with her family and friends.
Chelsey Staley, Writing Ranger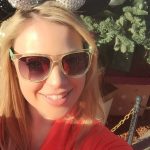 Chelsey's passion is writing! Last year she graduated from Cal State San Marcos University with a Bachelors degree in Liberal Studies and a minor in Linguistics. This past year Chelsey has been part of the Cal State San Marcos Middle Level Teaching Credential program that shows her how to be an excellent Middle school teacher.
While in the credential program she was a part of The Writing Project which takes her passion of writing and shows her specific ways to make writing for students more fun! When Chelsey is not in school you can find her at the beach in sunny San Diego, running around at Disneyland and California Adventure, or exploring at the San Diego Safari Park as she loves to learn more about wildlife. Chelsey looks forward to working with middle school students and share her love of writing with them!
Ivette Daugherty, Writing Ranger (Middle School)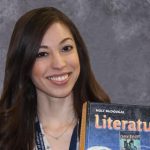 Ivette Daugherty has been an English teacher for the past five years. During those five years, she has taught 9th and 10th graders in Oakland and 7th and 8th graders at Newark Jr. High. She likes working with students of all ages, but mostly enjoys working with 12 through 13 year olds. It was during this age that Ivette had the most challenging time at school since she had a hard time fitting in. It is Ivette's goal for everyone to feel safe and included. She uses writing as a way for students to be able to express themselves, both in an art form and in a political form. Writing can seem intimidating, but Ivette reminds students that it can also be fun and relaxing. She is excited to meet everyone so that together they can start to write on!
Drummer Phil Didlake, Entertainment Ranger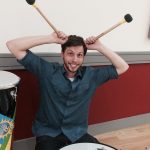 Bada BOOM! Drum roll please….
Drummer Phil is back for his second year at Adventures in Writing Camp and is always excited to spread the joy of rhythm, music and dance moves to all those willing to get in the groove!
Most recently, Phil finished his Music Therapy degree at Berklee College of Music in Boston, Mass. and has over 8 years of experience providing drumming programs for children of all ages and abilities. Phil specializes in using rhythm and music to foster creative learning through movement, and that is why Phil enjoyed Adventures in Writing Camp so much that he had to come back!
Khalilah Taylor, Adventure Guide (Counselor)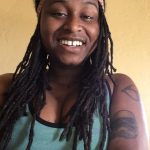 Khalilah has worked with children birth through 6 years-old for over five years! This year Khalilah began teaching STEM to ages K-6 and is loving the change of pace. Working with kids and helping them discover new and exciting things, that makes them what to learn, is what Khalilah is all about!
Khalilah's spare time is full with making jewelry and natural home decor. Khalilah loves to create – whether with a pin or a paintbrush, and believes that passion for creativity and exploration is catching! Welcome, Khalilah!
Kristine Tsung, eBook Ranger
Kristine Tsung loves working with children. She is a high honors graduate of UC Berkeley, and a Joint Teacher's Credential with Masters in Education candidate at San Jose State University. She is the owner and Chief Creator of BuzzingBOTS (yaybots.com), an award winning multimedia property for tweens. Winner of the business pitch competition in 2009, Ms. Tsung was interviewed on CBS TV where she showcased BuzzingBOTS. At the Santa Clara University Baby Boomer B-Plan Competition, her business plan targeted to boomer parents took the semi finalist position. Recently, BuzzingBOTS was a top 8 finalist in PACER's National Bullying Prevention Center Students With Solutions contest. Ms. Tsung helped launch Youth Charge Now!, a non-partisan civic engagement group energizing Asian American youth. She helped cross promote Asian Heritage Night to welcome NBA rookie Jeremy Lin making history with 17,000+ in attendance. Her mission is to connect different interests to work towards a global future – to connect, inspire and integrate. Kristine is looking forward to sharing her expertise and enthusiasm with the campers this summer!