8:00 – 9:00 am – Supervised Play (Extended Care)
Morning SuperPlay offers 1 hour of "Extended Care" at an additional charge. Parents can add the SuperPlay option by logging into their ParentPortal at AIWcamp.com. During this non-academic time, Adventure Guides (counselors) chaperone free play on the playground, or, at some locations, indoor play time.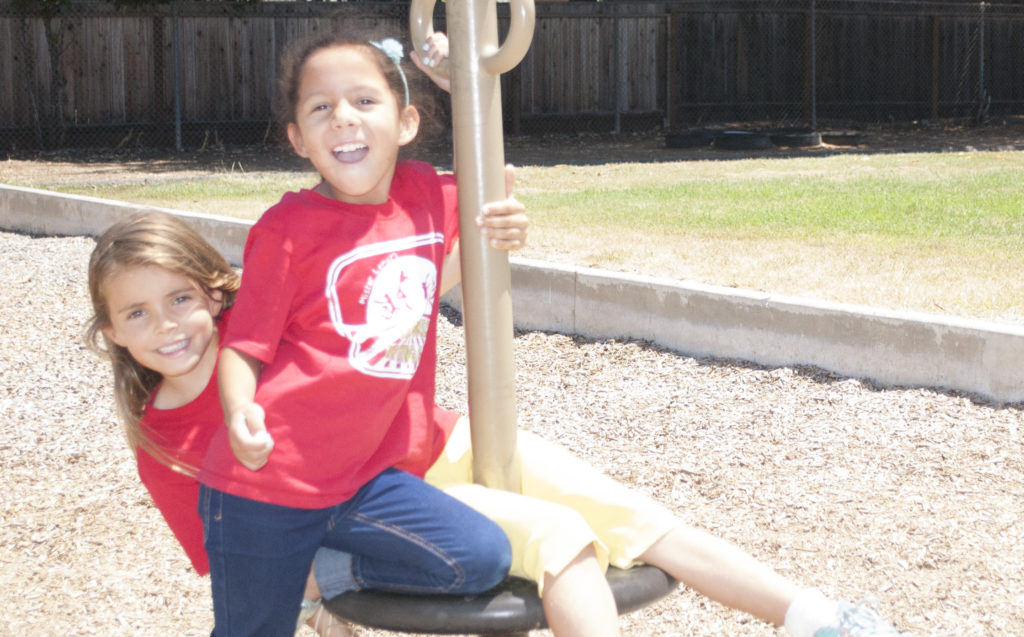 8:50-9:00 – Morning Matriculation: Campers arrive and sign-in
1st Day of Camp: Campers are encouraged to arrive between 8:40 and 8:45 on the first morning to check-in and receive their camp t-shirts.
All Other Days: Campers should arrive a few minutes before 9:00. Unless you are enrolled in SuperPlay, please don't arrive before 8:50, as staff will be meeting to prepare for the day and will be unavailable to supervise campers.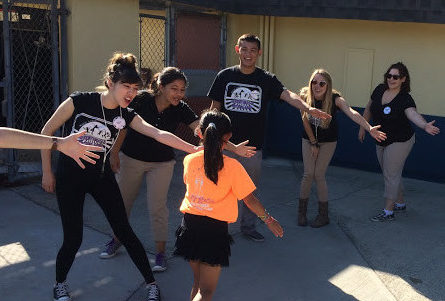 9:00-9:30 – Morning Assembly
Start off with a BANG! We bring all hands on deck each morning for a 30-minute introduction to the day. The morning assembly is part pep-rally, part comedic theater, and part author visit. Campers sing songs, Adventure Guides act out plays, teachers preview concepts, and authors/illustrators appear via video to introduce the writing trait and activities of the day.
9:35-10:00 – Troop Time
No camp day is complete without fun and games! Each morning, campers head out to the playground for improv games and active play, all led by our zany and creative Adventure Guides! In the "Troop Time" rotation, campers develop physical and verbal story-telling skills through games and activities drawn from Improvisational Theater, or "Improv." This physically active rotation is orientated towards kinesthetic learning, and provides campers an excellent opportunity to connect with their grade-level peers and form new friendships. (While all other rotations are taught by credentialed teachers, this rotation is taught by a college student, typically a drama or theater major.)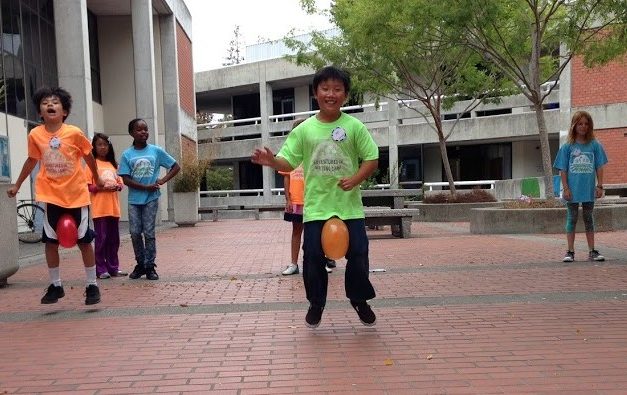 10:05-10:55 – Excursion One: Writing Instruction
In the writing rotation, a credentialed teacher leads a grade-level-grouped troop through writing lessons and hands on activities that develop proficiency and confidence in the day's activities. Activities are level-set to be appropriate for different grade levels.
11:05 -11:55 – Excursion Two: Learning with Music
We teach writing through the power of song and dance! Campers will learn a tune each day that will help them remember an important writing skill. A large body of academic research reinforces what many of us have experienced in our own lives; music is a powerful tool for learning! In the music rotation, your child will learn professionally produced "Writing Songs" and apply the writing skills taught in these songs to writing songs. No musical aptitude is required, and campers of all musical backgrounds will benefit from and enjoy this rotation. (Rotation is taught by a credentialed teacher.)
Check out a camp favorite from last year!
11:55-12:45 – Lunch & Recess
Campers should bring lunch, a snack, and a water bottle each day. There will be a ~20-minute lunch period, followed by a supervised recess prior to returning to class. If your camper has allergies, please let us know during the registration process so that we can provide appropriate accommodations.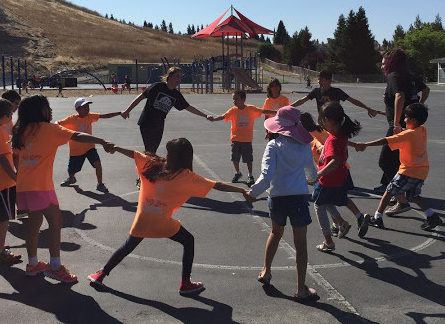 12:45-2:30 – Excursion Three: Creating your eBook
The writing process will come alive for your child as he or she applies newly learned skills to the creation of an eBook. Young writers become published authors by writing and illustrating their own eBooks! After their projects have been completed, eBooks are uploaded to the Lemur Library to share with friends, family, and the world.
We provide campers with iPads and a "Book Creator" app to use during camp.Campers are free to write about whatever topic ignites their creativity, and each child writes his/her own book. We work with writers of varying ability, and the length of campers' books varies with their grade level and writing ability. We are more focused on progress and demonstrated mastery of new skills than the length or relative "quality" of the work. Every year we take tremendous joy in seeing skilled writers hone their skills, and reluctant writers discover the creative joy of self expression through writing… all while building academic confidence.
3:00 – Homeward Bound
Days 1-9: The "regular day" ends at 3:00 with the completion of the Afternoon Assembly. Parents are welcome to arrive up to 15 minutes early to watch the Afternoon Assembly. This is a great way to get a feel for what your camper is learning, and to experience the camp environment.
Final Day: Parents are invited to attend a Closing Assembly at 2:30 on the final day camp. This 30-minute session is designed to celebrate the hard work and accomplishment of the young authors, and to offer parents a window into the camp experience. Parental attendance is optional (we know you are busy!) and typically only about 50% of families are represented. Although most campers depart after the Closing Assembly, SuperPlay WILL be available until 5:00 on the final day for those who are registered for this additional option.
---
3:00 – 6:00 – Supervised Play (Extended Care)
Afternoon SuperPlay offers 3 hours of "Extended Care" at an additional charge. Parents can add the SuperPlay option by logging into their ParentPortal at AIWcamp.com. During this non-academic time, staff chaperones a mix of lightly scheduled activities, free play on the playground/outdoor space, and indoor play time.