Turning "writing camp" on its formerly-stuffy head!
Our team of authors, musicians, teachers and curriculum experts set out to create a writing camp that turns the notion of "writing camp" on its formerly-stuffy head.
For elementary campers, lessons are delivered as songs, and new writing skills are practiced by writing rap songs. Rising first graders develop story skills, while campers entering grades 2-5 publish their own eBooks. Middle school campers create their own blogs filled with technology-driven content.
Did we accomplish our goal? We think so. Continue reading below to see for yourself what AIWcamp can do for YOUR young writers.
---
This is summer camp, not summer school!
Instruction is done through music, games, videos and technology. Campers engage in learning activities that give them positive, confidence-building experiences with writing. Rising 1st graders will develop storytelling skills, campers entering grades 2-5 write an eBook, and campers entering grades 6-8 create a blog about any topic they choose. From sports and video games to princesses and ponies, we're less concerned with the topic and more focused on your child having fun with writing while applying the new skills he or she is learning at camp. Whether your child loves to write or hates to write, we've got something to help him or her become a better, more confident writer. If you have not already done so, we encourage you to watch the camp video to see what Adventures in Writing Camp can do for your family!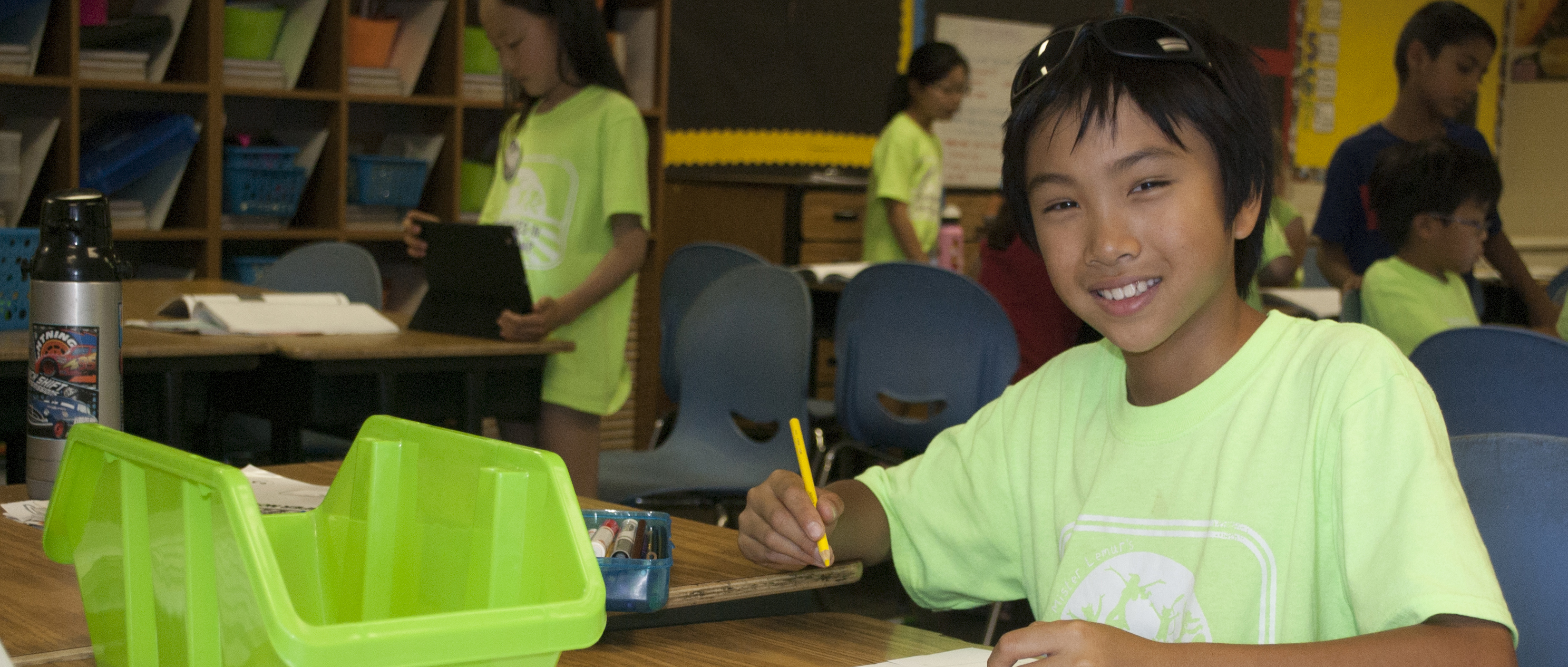 We approach writing from many different angles
No two campers are alike, and our curriculum and activity design reflects that reality.
Auditory learners love that we've worked with professional musicians to turn the curriculum into professionally produced pop songs. Every school year we hear from parents and teachers who tell us that their child is performing substantially better in writing because of things "they remember from the songs!" (Click here to hear examples of these songs.)
Kinesthetic learners love the verbal and physical story telling elements in learning games borrowed from "improv" theater.
Some reluctant writers love being able to use an iPad to create a story about any (family friendly) topic of their choosing. Others come alive writing rap lyrics for good-natured "rap battles" with other camp sessions. While we feel privileged to work with all of the campers, we do take a special joy in seeing the many, many reluctant writers each summer who fall in love with writing at Adventures in Writing Camp.
Traditional learners thrive in the project-based learning environment. The curriculum is created fresh each year, and we remain committed to providing campers positive, confidence-building experiences with writing.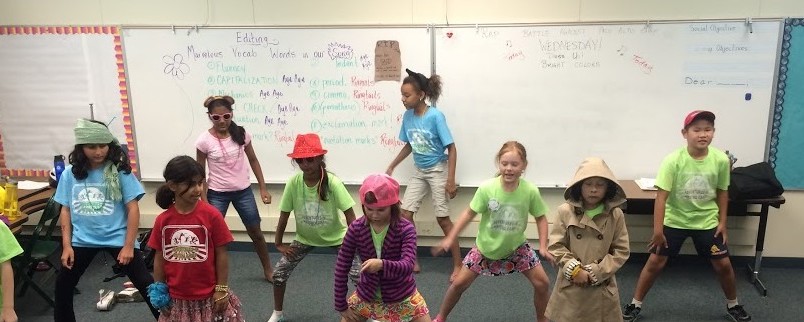 Writing lessons are taught by energetic, innovative, and CREDENTIALED teachers
No matter how good the curriculum may be (and we think ours is GREAT!), your child's experience with camp will only be as good as his or her teachers and counselors. We provide a student-to-staff ratio of not more than seven-to-one to ensure that each camper's writing development receives consistent personal attention throughout the journey.
Each Adventures in Writing Camp session is taught by a team of credentialed, local elementary and middle school teachers. Unlike many camps, we only require a two week commitment from teachers, so top teachers are often willing to spend two or four weeks a summer with us, where they might not want to spend the eight+ weeks other academic camps often require.
We are fortunate to receive teacher referrals each year from principals, teachers, and camp alumni, and each qualified candidate goes through a thorough screening and interview process. Those that are hired undergo an extensive background check, and every team member receives significant training on our culture and curriculum.
Our counselors (teacher's assistants) are all college students, and are usually a mix of teachers-in-training who want the classroom experience assisting teachers, and drama students, who thrive leading "improv" games, skits, and other high-energy activities.
Adventures in Writing Camp was created by Stanford-educated authors Hans and Jen Hartvickson in partnership with Doctor Alison DeMark and teacher Jonny D. Williams.
We work to create a virtuous cycle of enthusiasm toward writing
A child who loves writing writes more frequently.
A child who writes more frequently becomes a better writer.
Better writers tend to love writing.
It's a virtuous cycle.
We help your child discover the magic of writing. We arm your child with tools to organize his or her ideas, hook readers with a great introduction, and paint pictures with well-chosen words. You watch your child "ride" the virtuous cycle to a lifetime of confidence and success with writing.